In Memoriam || Pauline Anna Strom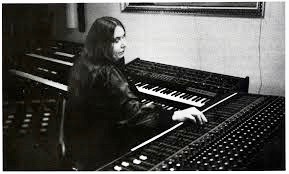 Electronic Frequencies on Wednesday 17 March at 23:00 CET presents an In Memoriam for Pauline Anna Strom.
Recently, at the age of 74, electronic music pioneer Pauline Anna Strom departed from our planet. She has moved on into the cosmos from where she will continue to provide us with positive energy. This introduction is, of course, partly tongue-in-cheek, but it is in keeping with Pauline's lifelong mission to enhance the well-being of her fellow human beings.
The news of her death was announced on December 14th by her label RVNG Intl.
Despite her visual impairment (she was born blind) she was perfectly able to operate complex synthesizers. She recorded her earlier work using a Tascam four-track recorder. The first release 'Trans-Millenia Consort' was released in 1982 and all her subsequent work was distributed under the same title.
She said the following about her music: "When I got to know synthesizers, I fell in love with electronic music." "I felt that electronics enhance your ability to create from your imagination."
Another LP and five cassettes followed under the name Trans-Millenia Consort. Until 1988. After that there was silence. She retired from making and releasing music and sold most of her equipment. Paula, for the initiates, was now fully committed to spiritual development.
The American Pauline Anna Strom, born in 1946, was not just a musician and composer, she was also a healer'. Being blind, she opted for a secluded life. She lived in an apartment in San Francisco with her two beloved pet dinosaurs (iguanas) called Little Soulstice and Ms. Huff. From this apartment she also worked as a spiritual healer.
The overview work 'Trans-Millenia Music', released in 2017 by the American RVNG Intl, brought renewed attention to Pauline's music. It inspired her to create new work. After a pause of 30 years she recently released a new album, also on RVNG Intl. This album 'Angel Tears In Sunlight' is a logical development of her earlier work. Unfortunately, she was no longer able to be physically present for the release.
Strom dedicated 'Angel Tears In Sunlight' to her friend John Jennings who died during the process of making it. She said she titled the album to reflect the process of creating new life and coming to terms with loss. "Sunlight represents what we're coming into. You bring the sadness with you, but you're also prepared for the blessing of the new." Pauline Anna Strom (R.I.P.)
Click here for the playlist.