Peter Rehberg in Thema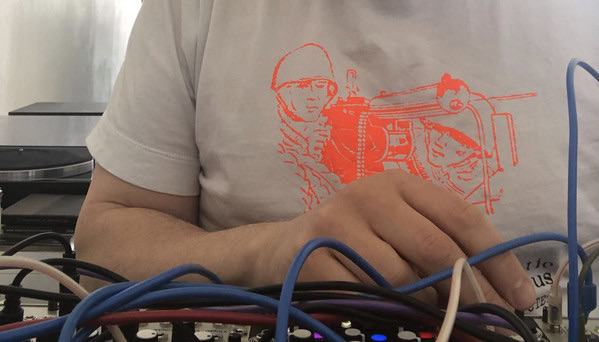 Musician, composer and publisher Peter Rehberg unexpectedy passed away at the age of 53 on 22 July 2021. Thema on Wednesday 9 March at 20:00 CET looks back at his musical legacy.
Peter Rehberg was born in the UK in 1968 and after growing up in Hertfordshire returned  to his family roots in Austria. He subsequently became a key figure in the world of contemporary electronic 'underground' music after making his debut in 1995. He achieved this mainly through the Viennese label Mego, that was renamed Editions Mego in 2005.
Rehberg made his debut as Pita on the Mego label with the 12inch 'Fridge', a collaboration with General Magic, A year later his debut album 'Seven Tons For Free' was released. The Mego label, especially after Rehberg took over as curator, grew into an influential label for new developments in electro-acoustic music.
Mego became the catalyst for the musical adventures of artists such as Christian Fennesz, Jim O'Rourke, Stephen O'Malley, Russell Haswell and Florian Hecker. Later, under the name Editions Mego, the label regularly released leading works by artists such as Oneohtrix Point Never, Kevin Drumm, Bruce Gilbert, Mark Fell, Oren Ambarchi, Bill Orcutt and Emeralds.
Peter Rehberg also continued to compose, produce and publish his own music, often in collaboration with others. The collaboration with Stephen O'Malley under the name KTL  resulted in several albums, of which KTL's 'VII' from 2020 is the most recent.
In X-Rated on Sunday 25 July 2021, Bob Rusche looked back at the career of Peter Rehberg. Click here to listen again to that programme.
The episode of Dr.Klangendum from 27 April 2020 is also interesting. Parts of Peter Rehberg's 'Piece for Amplify 2020' (see photo) can be heard in it. This was a unique listening experience in what was then a Corona quarantine period.
Now in Thema we will reflect on the musical legacy of Peter Rehberg. Click here for the playlist.