In the Spotlight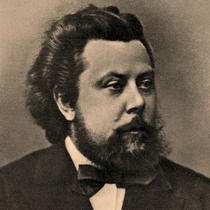 Dedicated to Modest Mussorgsky (1839-1881) in the second half of February and a large part of March.
Mussorgsky is well known for at most a handful of works, but he wrote a great deal and belonged to a group of five Russian composers who believed that Russian composers of art music should mainly be inspired by home-grown folk music. He did that, but he did a lot more – and a lot he didn't. He was regarded as a brilliant dilettante on whom others found it necessary to improve his music. He tried to capture the childish soul in music, was an unhinged aristocrat and found happiness in neither life nor death. Fortunately, he wrote great music with that mindset. You will hear well-known works in an unknown version, unknown pieces that deserve more fame and a selection of great musicians.
Emmanuel Overbeeke.
First broadcast Thursday, February 23, 4 p.m.
a. The nursery. Boris Christopher, bass. Alexandre Labinsky, piano.
b. From Boris Godunov: the coronation scene. Choeurs Russes de Paris. Orchester National de la Radiodiffusion Française cond. Issay Dobrowen.
c. Paintings from an exhibition (orchestration Leopold Stokowski). Cleveland Orchestra cond. Oliver Knussen.
Further episodes every weekday at 4pm.