Inventions for Radio presents: The Afterlife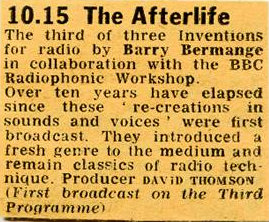 On Wednesday 26th of November at 23.00 CET can listen to The Afterlife ("The Great Adventure") of Barry Bermange and Delia Derbyshire. This programme is the third of the four original "Inventions for Radio" programmes that was developed in collaboration with the original BBC Radiophonic Workhop. This programme was first aired 1 April 1965.
"This programme is an attempt to reconstruct in sound the spiritualistic vision of Death and Eternity. It is conceived as a dream of Death. Using the montage process of his earlier programmes, 'The Dreams' and 'Amor Dei', the author has arranged in settings of electronic sound a collection of voices recorded from life. There are four movements." "Actuality" voices recorded in co-operation with the Old People's Welfare Council, Hornsey."
After the programme you can listen to 20 minutes of silence where there is asked to reflect on the subject.