Jasper van 't Hof meets Yuri Honing: U Jazz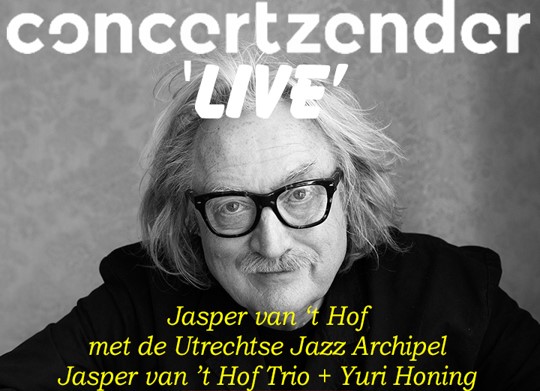 On Saturday 13th July the Concertzender broadcast the first episode of material from the U Jazz festival 2018. In the second episode with recordings from that festival 2018 the focus is on Jasper van 't Hof, the Utrechtse Jazz Archipel and a first: Van 't Hof playing together with Yuri Honing.
Jasper van t Hof
Jasper van 't Hof kicked off his musical career in the mid 60's. His impressive list of collaborations and albums as pianist and keyboard player resulted in his being awarded at the beginning of December 2018 the BUMA Boy Edgar Prijs, the apex of all Dutch Jazz Awards. A week later he was the chief guest at the U Jazz Festival 2018 in Cloud Nine in TivoliVredenburg.
Van 't Hof is one of the most active jazz musicians in Europe and has recorded more than more than 70 albums. He played as keyboard player with Archie Shepp and many others, although he is best known for his brilliant solo playing. He won the Bird Award in 1997 as well. After more than 50 years of playing all over the world Van t Hof is still curious. Back in the Netherlands he started his connection with the Utrechtse Jazz Archipel, and with his own quartet in a very strong and unusual lineup, with Stefan Lievestro, drummer Jamie Peet and .. special guest saxofonist Yuri Honing. Honing and van 't Hof are both internationally very active and have known each other for years, but this was their first performance together.
Listen
Concertzender Live Jazz on 14th September 14.00 to 15.00.