Klaus Schulze 1947-2022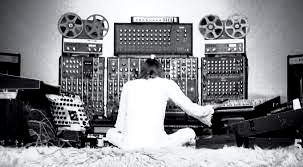 Electronic music pioneer Klaus Schulze died on Tuesday 26 April 2022.
Klaus Schulze's music was truly mind-expanding! No other word better describes the oeuvre of this versatile composer and musician. He was an extremely gifted musician with an exceptional sense of timing. These talents were initially revealed in his work as a percussionist and later developed into a phenomenal ability to perform on keyboards. But Schulze's sense of timing went further than merely making music, his contributions to the developments in culture and society were also almost extra-terrestial. Inspired by developments in the 1970s, Schulze expanded his use of electronic instruments, fully exploited  their new technical possibilities, and used them to add spirituality to the music. The genie that was released from his electronic lamp guided the listener into his deepest subconscious. This was pure mindfulness, in a time before mindfulness had been invented.
Klaus Schulze was briefly part of the Berlin school, but soon made a move to a more personal and organic approach to electronic music. He emphasised the basic principles of minimal repetition that were known from minimal music, but intertwined with this was the layering of free, almost jazz-like improvisation. These qualities of mind-expansion and rhythm made Klaus Schulze an unequaled composer of spiritual electronic music.
"Sometime in the mid-seventies, Schulze's music first crossed my path, thanks to the city library in Haarlem. I visited the record library there several times a week and borrowed everything that was new. Initially it was especially the jazz-rock, with all its gifted guitarists and keyboardists, that kept me in its musical grip. Then punk, minimal and electronic music grabbed me by the throat. Back to that one chord, to that one tone, the repeating sound, to simplicity. And that's how Schulze's records ended up on my record player.
And then during my internship at a school in Haarlem I discovered an electric organ in the teacher's room. I was fascinated by the sounds that could be produced by endlessly holding down the same keys with a few fingers and then adding reverb or vibrato after a while. After the internship and the diploma, I bought a tape recorder and an electronic organ with the first money I earned. I had found my musical path. And in my opinion I sounded like Schulze.' Hessel Veldman.
"Being confronted as a schoolboy while doing my homework with the music of Klaus Schulze was unforgettable. His album Timewind had just entered the LP Top 30 and was being played on the radio. That period defined my further musical life. The long drawn-out soundscapes were sounds from outer space, and the rhythms from the sequencers were completely unique. This music opened the doors to the fascinating world of electronic music, with names such as Tangerine Dream, Ash Ra Tempel and Popol Vuh in addition to Schulze. The world has lost a true pioneer, an icon, and his influence can still be heard in today's techno and ambient. But………Fortunately, there is his very rich musical legacy that we can enjoy forever." Bob Rusche.
On Sunday 1 May at 21:00 CET Bob Rusche in X-Rated will spend two hours looking back at the life and work of Klaus Schulze.
X-Ray on Sunday 15 May at 23:00 CET and on Sunday 22 May at 23:00 CET  will also be dedicated to the music of Klaus Schulze.
And for all those who cannot wait until Sunday, Click here to listen to an earlier episode of X-Ray that forms the perfect prelude to our In Memoriam.