Klavan Gadjé live at Houtfestival Haarlem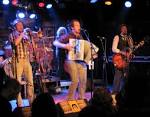 On Sunday 5 January 22:00 – 23:00 we will be broadcasting the second concert that we recorded during the Houtfestival. The festival is a modern, open-air, free festival in Haarlem with a strong world-music component.
You will be listening to the gypsy band Klavan Gadjé.
Klavan Gadjé live is an experience. They bring together musical influences from around the world and their performance during the Houtfestival on 16 June 2013 followed successes at Lowlands, Oerol, Paaspop, the Gentse Feesten and in the Melkweg.
For more information see our programme guide
This concert was originally broadcast on 27 December 17:00 – 18:00