Ladies of the Tango ( Part 3 ): Azucena Maizan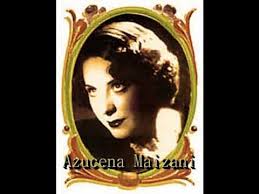 Azucena Maizan was successful mainly in the 20's and 30's. She was the representative of the tango arrabalero, together with Rosita Quiroga, to whom the next episode is devoted.
During this broadcast we'll be once again playing a lot of unique recordings and many of the song texts will be read out, which can be hard, realistic, sad and give a good picture of the tough life of those times in the poorer suburbs.
For the full playlist go to our programme guide: