Looking for Beethoven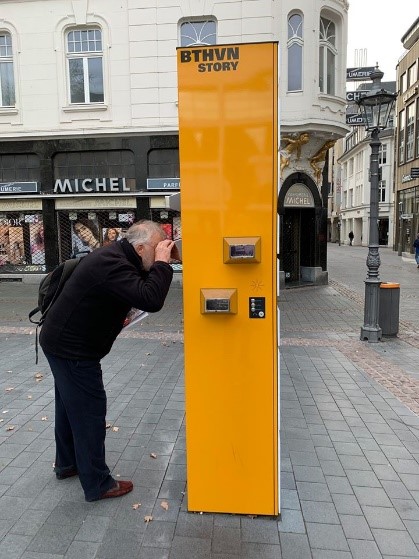 On 16 December 2020, we'll be celebrating 'der Ludwig's' 250th birthday. That's why this year, The Concertzender will play one hour of Beethoven's music every weekday. We'll also interview a Beethoven expert every Monday. Evert-Jan Nagtegaal: 'As one of the presenters I get to interview these experts about their specialty within Beethoven's oeuvre. So far, I've learned a lot about Beethoven, about his music, but also about his performance techniques, his instrumental choices and him as a person. And so, I thought it was high time for a pilgrimage to Bonn and Beethoven's origins'.
Gone
1770's Bonn doesn't exist anymore; it was wiped out by allied bombs in 1944. Bonn was founded in the 11th century by the Romans and really flourished in the care of the archbishops of Cologne. A few buildings from that time still exist. The enormous palace, built by Elector Joseph Clemens, is now part of the University, the grand park holds a botanical garden that is open to the public.
At the first Beethoven anniversary in 1845 (Beethoven would've been 75 if he hadn't died at age 56 in Vienna), the city of Bonn revealed a large bronze statue. This year, at the 250th anniversary, Bonn is planning a grand celebration to which it hopes to attract lots of people. A lot of money was spend restoring and organizing the city. Exhibitions, concerts and special performances. The house Beethoven grew up in was closed for some time, but reopened its grand baroque door in December 2019. A great start of the new year, I would say. Opposite the house, in a busy shopping district, a new shop opened with this year's logo.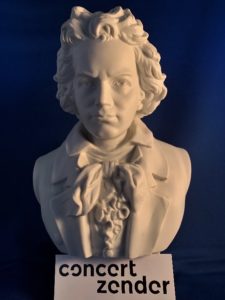 This shop is where you can buy time-bound entrée tickets to visit the house. The house is very small, so only a few people can fit at the same time. The rooms are filled with showcases with facsimiles of manuscripts and letters, there's a violin, an organ and a piano. There's also life and death masks, portraits aplenty and hearing aids. It's hard to catch a real glimpse of the Beethoven family life, for that you have to turn to the books sold in the shop. This is also where you can buy postcards, dolls, keychains, coasters and t-shirts. Beethoven merchandise, but it's in collaboration with the Bundespost and the Bundesbahn. The museum also organizes concerts in a room behind the house, as well as in halls and the opera in the city. Before your visit, don't forget to reserve your tickets beforehand, or download the year program. A walking route has been set out in the city, with yellow boxes marking the places that held special buildings in Beethoven's time, many of them, like churches and other buildings, are no longer there, but it's interesting to catch a glimpse of what the city would've looked like. Beethoven left Bonn when he was 22-years old and never returned. Now it's all hands on deck to bring him back.