Manta Ray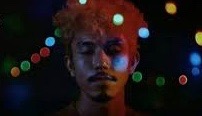 The film Manta Ray has its premiere in the Netherlands on 12 September.
In Electronic Frequencies on Wednesday 21 August at 22:00 CET, you can listen to the soundtrack of Manta Ray. The film is directed by Phuttiphong Aroonpheng and the music is composed and performed by Snowdrops, a duo consisting of Christine Ott and Mathieu Gabry.
A fisherman from Thailand cares for a wounded man whom he finds in a forest near the sea. Many mysterious events have taken place in this forest and many bodies have been hastily buried there in the past. At night, lights can be seen through the trees like the souls of the dead. The fisherman calls the wounded man Thongchai and slowly a friendship develops between the two men, although the wounded man can not speak and is probably also deaf, This inspires the fisherman to take a momentous decision. When the fisherman fails to return, Thongchai slowly takes over his life – including his ex-wife.
The realism of the initially simple story is slowly replaced by the magical elements to form a complex whole with many possible interpretations. This is the first full-length feature film made by Aroonpheng and he dedicates it to the Rohingyas, because the mysterious dead in the forest may be these fugitives from neighbouring Myanmar. This poetical hommage was awarded the prize of best film in the Orizzonti-section of the Venice film festival.