Mariama: Congolese Soukous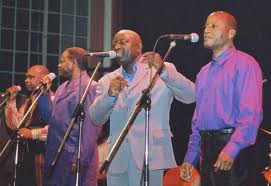 Saturday night 26 October from 23.00 – 00.00 hrs. we will listen to Soukous, the festive music style from Congo, in which interlocking guitar lines and vocals whip each other up.
By the end of the sixties and the start of the seventies life was becoming not only faster but tougher as well, because independence was not bringing what people had hoped for. And as music is a mirror of society the music became faster and tougher as well. That way in Congo Soukous was born, evolving from the Rumba Congolaise.
In this Mariama you will hear among others Lemed Janvier, Celi-Bittsu, Loketo and Singer Nahounou & Poly-Rhythmo de Cotonou.
The programme will be repeated Saturday Night 26 October from 23.00 – 00.00 hrs.
See programme guide for the full play list: