Meet the Concertzender LIVE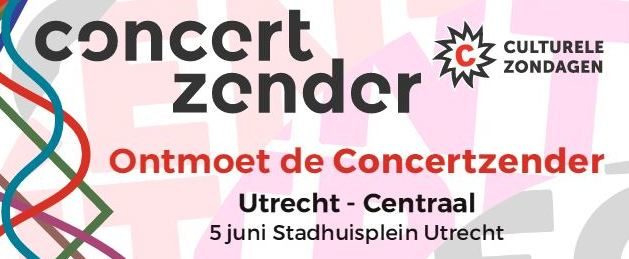 Meet the Concertzender LIVE during the Culturele Zondag on Monday 5 June in Utrecht.
Live music | Interviews | Live radio broadcast
Culturele Zondag – Utrecht Centraal
With Eric Vloeimans, Holland Baroque, Folk Road Show and many more!
Visit the Concertzenderpodium on the Stadhuisplein and meet the Concertzender. You can also listen to the live broadcast via our website and app.
The Culturele Zondagen and the Concertzender are working together closely. We will be reporting on the events of the day during our broadcast which includes live music performances and interviews.
Children age 8 – 13 can also visit our RadioLAB and learn from our presenters how to make a radio programme.
The latest information will be made available via our free newsletter and subscribers to the newsletter also have a chance to win 2 free tickets to our Friends concert on 22 June in Museum Speelklok in Utrecht.
Meet the Concertzender LIVE, from 13.00, Stadhuisplein, Korte Minrebroederstraat, Utrecht.
Follow us on Facebook and Twitter (#CZlive).
More information?
– www.culturelezondagen.nl
– Facebook Concertzender
– Facebook Culturele Zondagen
——————————
Culturele Zondag – Utrecht Centraal – Concertzender Live
Stadhuisplein, Monday 5 June 2017, 13-18
Korte Minrebroederstraat, Utrecht