Mehmet Polat Trio in Acoustic Roots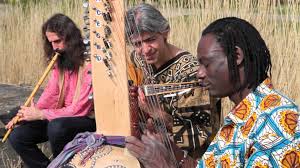 On Friday 18th September from 21:00 – 22:00 the Mehmet Polat Trio are our guests in Acoustic Roots in the Pieternel of the Pieterskerk in Utrecht. Their hostess is Karin van den Boogaert.
The Mehmet Polat Trio is both a spiritual and adventurous meeting between 3 masters of their respective magical instruments: the ney, kora and ud.
With their roots in the Ottoman, Anatolic, Balkan and West- African music traditions, the trio add colour to Mehmet Polat's original compositions with daring improvisations and grooves .
For more info:
Go to their website: