Nancy, muse for Mozart and Haydn
By Thijs Bonger

Mozart and Haydn found each other on many levels. One of which was their boundless admiration for a young opera diva. Her voice, acting talent and physical attraction made her a muse for many composers. Many pieces were created with her in mind. And they often turn out to be more than worth listening to.
From London to Florence
Her name? Nancy Storace. She was born in London in 1765, to an English baker's daughter and an Italian father, namely double bass player Stefano Storace. Nancy was a child prodigy. She made her debut at seven and was already performing as an opera singer at eleven years old. She moved to Italy with her equally talented brother, where she achieved much success. In Florence she was in an artistic duel with a castrato. Castrati often have more volume than female sopranos, but Nancy was determined to prove her voice was as good as his. This period is probably when the seeds of later vocal troubles were planted.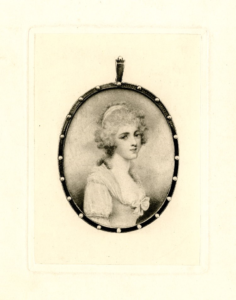 Mad about the girl
Audiences went mad for her performances. Nowadays, it's common for opera singers to also shine as actors, but in Mozart's and Haydn's time it was a rarity. In 1783, Nancy made such an impression on an Austrian government official that he invited her to join a new opera company in Vienna. Nancy went and immediately received the highest honorarium of the entire company. Haydn was also eager to work with her. In 1784 she sang in his oratorio Il Ritorno di Tobia. The work is rarely performed nowadays, even though it's packed with high quality music. Take for instance the two powerful choruses; Ah gran Dio and Svanisce in un momento, or several wonderful arias; Sudo il guerriero, Quando mi dona un cenno and Come se a voi parlasse. A quality recording of this work van be found on the label Naxon.
Enchanted by Nancy
Everyone wanted a piece of Nancy. Because of her voice, her playfulness and her beauty. And she must have been nice as well, because she quickly befriended both Mozart and Haydn who then came to her house to play string quartets. Imagine that.
Mozart fell hard for Nancy and so he wrote and arranged music for her voice. For example, in 1784, when Haydn's penultimate opera, Armida, premiered, Mozart and Nancy fell in love with the duet: Cara, sarò fedele. Nancy's voice did not have the required range, so Mozart rewrote the piece for her. In those days it was quite common that certain arias in one composers' operas were arranged by another composer. With Nancy in mind, Mozart even started a new opera, Lo Sposo Deluso, with tailor made arias. But he never finished that opera. The terrible libretto must have played a part in this.
A government official, Count Karl von Zinzendorf, came to the theatre to admire Nancy night after night. He said, 'Storace played the role like an angel. Her beautiful eyes, her white neck, her beautiful throat, her fresh mouth, made a charming effect.' The Count's admiration was clearly not limited to her voice. And he wasn't the only one enchanted by her. 17-year-old Nancy's honorarium was so exorbitant that Emperor Joseph II once complained that he could have used that money to buy 100 grenadiers.
Childhood acquaintances
While looking up information about her, we found out that the Mozart family had been in contact with Nancy's father for a long time. When he was 8 years old, Mozart stayed in London for a while with his father and his sister, Nannerl. While there, Mozart received lessons on how to play the double bass from Nancy's father, Stefano Storace. Storace also taught little Wolfgang how to compose for orchestras. Nancy's father is therefore probably partly responsible for the fact that during his stay in London, eight-year old Wolfgang composed his first symphony. We're well aware of the circumstances under which the boy composed it, because his sister wrote about that time: 'In London, where our father was gravely ill – it took 2 or 3 months before he recovered – we were not allowed to touch the piano for ages. And so – to have something to do – Wolfgang composed his very first symphony (KV 16). I had to sit next to him and write out the parts, while he quietly hummed them to me' This all took place when Stefano Storace was about to become the father of a daughter. Who turned out to be Nancy.
Listen to
Al the music mentioned in this article can be found using these links.
Geniale muziekvrienden XV
Geniale muziekvrienden XVI
Geniale muziekvrienden XVII