New CDs by Kareyce Fotso, Dobet Gnahoré, Susheela Raman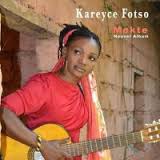 In our World minerals programme of Friday, 18 July, 22:00 – 23:00 you could listen to many recent releases by various artists, e.g. the Mokte album by singer Kareyce Fotso from Cameroon, and the Tudo album by bossa nova singer Joyce Moreno from Brazil.
We return to Africa again with the Na Drê album by singer Dobet Gnahoré from Ivory Coast.
After that it is time for 9 Dead Alive, an album by two giants on acoustic guitar: the Mexican guitar duo Rodrigo y Gabriela. Following that we change continents again, but keep the Latin temperament through La Troba Kung-Fú, the Catalan mestizo band. This Spanish band holds a happy party on their latest album Santalegria. There is also a lot happening on the Fazendo as Pazes com o Swing album by Orquestra Imperial, the Brazilian samba band.
Towards the end of the programme we can listen to dreamy-subtle jazz by Simin Tander, the German-Afghan singer. The music is from her 'Where Water Travels Home' album. And we'll finish the programme with the British-Indian singer Susheela Raman, who delivers her songs with beautiful Indian outlines on 'QueenBetween', her latest album.
You can find the full playing list in our guide text