New Documento series: Naples
The next edition of the Early Music Festival (FOM) is a few months away, but we're giving a preview. On Monday 15th April the Concertzender is starting a series of four Documento's, dedicated to Naples, this year the central theme of the FOM. For centuries Naples was one of the greatest European cities, a cultural leader. The city has a rich musical history. In Documento we're going through the musical history of Naples, from the Middle Ages to the 18th century.
Part 1 covers Neapolitan Music from the Middle Ages by composers such as Adam de la Halle, Philippe de Vitry and Antonello da Caserta.
Broadcast
Naples part 1, the Middle Ages
Monday 15th April 2019, 19.00 – 20.00
Brockes-Passion in Concertzender Live
When they hear" Passion " Music lovers naturally think of Bach's St Matthew and St John's Passions. However Georg Friedrich Händel wrote great Passion music of which his Passion, to texts by contemporary Barthold Heinrich Brockes, is his best known.
In 2018 the Apollo Ensemble played Händels Brockes-Passion, as the first part of a striking Passion threeparter, based on a famous libretto by the then innovative author Barthold Heinrich Brockes (1680-1747). The Concertzender recorded these and is broadcasting them in two editions of Concertzender Live.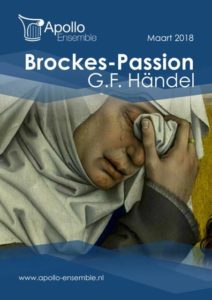 Special
Brockes' text is not liturgical and doesn't follow an evangelist, but focusses on the personal emotions. Händel composed it in the line of Italian opera tradtions and wrote his Passion for a small ensemble of 8 opera singers and 14 instrumentalists. Apollo Ensemble's performance sticks to these ensembles.
In Concertzender Live on 11th April part 1 of the Brockes-Passion will be followed by our recording of the Child-Matthew by Ton Koopman and his daughter Marieke Koopman.

Broadcasts:
– Part 1: Thursday 11th April 2019, 20.00 – 22.00
– Part 2: Thursday 25th April 2019, 20.00 – 22.00
Rembrandt
The greatest Dutch painter of all time died 350 years ago. In three episodes of Documento we're playing music either from his time or that is about his painting.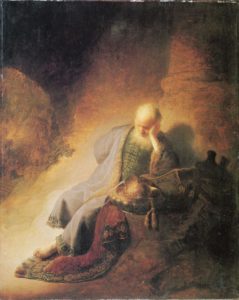 Part 1, on Monday 22nd April contains music about Biblical scenes by Rembrandt, such as his painting 'Jeremia treurend over de verwoesting van Jerusalem' from 1630. This scene has often been used by composers as a basis, such as Emilio de' Cavalieri and Johann Rosenmüller. They are primarily performed in Easter Week. Part 2: Rembrandt and the Bible can be heard in Documento on Monday 6th May and Part 3 is planned for June.
Jordi Savall
Broadcast (part 1)
– Monday 22nd April 2019, 19.00 – 20.00
Organ works
In Organ Works On Monday 8th April we broadcast part 2 of a special version of Bach's Goldberg variations.
You can hear this programme via our app, but it's also going to be repeated 'live' on Wednesday 17th April at 11.00.