New theme channel: Radiophonics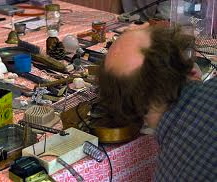 Radiophonics is a general term that is often used in relation to sound art. The Concertzender broadcasts various programmes that concern sound art and these programmes are now available via the Radiophonics theme channel.
The theme channel includes the programmes Dr.Klangendum, Inventions For Radio, Radio WORM and Framework Radio. These are programmes that have been regularly broadcasting radiophonic productions for many years.
Café Sonore (which was originally a VPRO programme) will move to the Concertzender later this year. Café Sonore and the other programmes will then work together to develop the Radiophonics theme channel to form an extensive source of adventurous sound art.
Listen to the Radiophonics theme channel via the link here