No Bach without Luther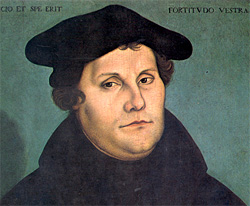 From Monday 31st October to Friday 4th November at 13.00 the new week of Bach ad Infinitum has a new theme : No Bach without Luther. 31st Oktober 2016 is the start of the Luther- or Reformation Year which continues through 2017.
Maarten Luther (1483-1546) was a colourful and original person who changed world history. He positioned German through his translations and sermons as a fully fledged language and gave music an impulse through his support for the chorale, in which everyone sings.
Luther played both in belief and lifestyle a decisive role in the life of Johann Sebastian Bach. He repeatedly arranged virtually all of Luther's songs for organ.
Monday we're playing chorales on the organ and two cantatas on Luther chorales, Tuesday and Wednesday the complete Klavierübung part III, played by Stefani Molardi, and Thursday and Friday the  4 so-called  Lutheran masses by Bach .
Bach ad Infinitum: every weekday from 13.00 to 14.00 .
Repeats: 1 week later, same time.