Northern Indian ragas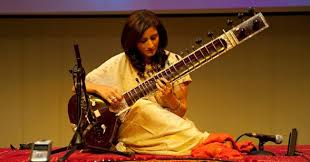 Lovers of Northern Indian raga's can listen to 2 programmes on Friday 12th June: Oriënt Express at 19:00 and Worldminerals at 22:00.
In the programme Oriënt Express by Jan Kruit you can hear the raga's: Raag Bibhas, in which singer Shruti Sadolikar will be accompanied by: Anand Krisna Kunte: sarango and Anindo Chatterjee: tabla. In Raga Anand Bhairav you will hear Amjad Ali Khanen, both his sons and Shafaat Achmed Khan: tabla.
See programme guide
In Worldminerals, compiled by Pieter de Rooij, music for sitar and sarod, played by young and old performers. You can hear recordings by Roopa Panesar, Amjad Ali Khan, Zarin Daruwala, Abhisek Lahiri, Partho Sarathy and Ali Akbar Khan.
See programme guide