Nostalgia; 100 years of Radio
What's in a name? An engineer from The Hague, Hanso Schotanus à Steringa Idzerda, familiarly known as Hanso Idzerda, or Idz for those wanting to take an even more drastic shortcut, broadcast the first Dutch radio programme on 6 november 1919. Uniquely to the Netherlands: there were already a number of various independent broadcasters, who shared broadcasts and had their own programmatic leanings. Socialists, Catholics, Protestants, Broad and Free Thinkers: they all had their own amusement programmes and often their own orchestra.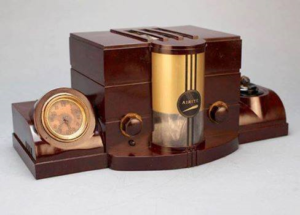 Until long after the War families would gather together for legendary programmes such as 'De Bonte Dinsdagavondtrein', 'De Familie Doorsnee' or 'Negen heit de klok'. In the 60's advertising began. Wim Kan mocked with crazy STER-spots, while from a ship in the North Sea the commercial Radio Veronica introduced a new public: youth.
The Palace of Nostalgia will be delving into the cellars of 100 years of radio in 2 episodes, bringing you well-known and less well-known voices from radio history, with tunes, old commercials, seabroadcasters, songs and conferences. Van Snip & Snap, Henry Hall & The BBC Dance Orchestra to the Ramblers. And with Ochtendgymnastiek (you better get ready!) , Raden Maar (Have a guess, a program which achieved cult status and is god for your Dutch, too!) and the VARA Dansorkest, Hammond Organ virtuoso Cor Steyn and The Man in a (radio) Box. Get comfy and sit yourself down next to your wireless.
Listen
Palace of Nostalgia Weemoed: 100 jaar radio, Saturday 6th November from 20.00 to 21.00.