Online Radio Festival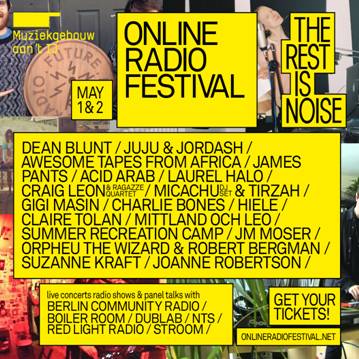 The Online Radio Festival will take place in the Muziekgebouw aan 't IJ in Amsterdam during the weekend of 1st and 2nd May. Thirty hours of live radio plus performances. You can be there too ! X-Rated will be giving tickets away on Sunday 26th April.
The Online Radio Festival will be presenting 6 international web-radio stations. Via a live marathon 30 hour broadcast, consisting of live performances, interviews and dj-sets the festival will be demonstrating the growth and power of web-radio .
The participating radio stations are Boiler Room and NTS (London), Berlin Community Radio (Berlin), Dublab (Los Angeles), Stroom (Gent) and Red Light Radio (Amsterdam). All 6 radio stations have a unique identity and together represent what is currently going on in the world of web-radio.

The phenomen of web-radio is roughly comparable to pirate radio in the 70's.
For more information about Online Radio go to the festival website: http://www.muziekgebouw.nl/onlineradiofestival

There will be live performances from among others: Dean Blunt, Craig Leon (living legend and producer of among others Blondie) Juju & Jordash, Awesome Tapes From Africa, Micachu & Tirzah and Laurel Halo and many more.