Panorama de Leeuw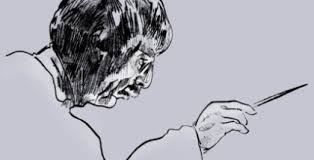 Wednesday 3rd December at 2000 – episode 3 , Stuck in a rut ?
On the basis of her biography of Reinbert de Leeuw published in March 2014, Thea Derks is following the musical career of the pianist, composer and conductor who played such a prominent role in Dutch musical life.
The third episode covers the 50's, in which de Leeuw finishes his education at Barlaeus Gymnasium and after a brief diversion studying Dutch he starts to study piano at the Muzieklyceum in Amsterdam.
Although the general impression of the Netherlands in the 50's is that it was stuck in a rut, the biography gives us a different picture. The New Music was actively promoted by the Gaudeamus Muziekweek (1945); the Holland Festival (1948); De Suite (1951) and the Contactorgaan Elektronische Muziek (1956). From 1956 onwards the Russian/Dutch violinist and conductor Elie Poslavsky and his Haags Ensemble also adopted the avant-garde school.
Today you'll hear works by Arnold Schonberg, Charles Ives, Henk Badings, Leos Janacek and Reinbert de Leeuw.