Paul Panhuysen 1934-2015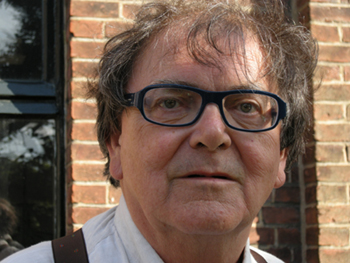 On Thursday of last week the Dutch sound artist Paul Panhuysen passed away at the age of 80 in his home town of Eindhoven. Panhuysen was seen as one of the most important Dutch sound artists.
At the end of the 60's he started the Maciunas Ensemble , one of the first Dutch experimental improvisation-ensembles.. Fluxusperformance, minimal music, radical improvisation and experimental folk music,it was all one to the Maciunas Ensemble.
From the 80's onwards he experimented with using long, resonating strings in monumental installations which he originally developed with Johan Goedhart.
From 1980 tot 2001, together with his wife Hélène, he directed the well-known Apollohuis in Eindhoven, which presented among other things contemporary art,, installations, performances and modern day, experimental concerts. Musicians such as Arnold Dreyblatt, Jim O'Rourke, Keiji Haino, Thomas Köner and Rafael Toral gave their first Dutch peformances in this way.
Music by Paul Panhuysen can now be heard on the Concertzender:
*Maciunas Ensemble: