Pentatunes 02/9/2015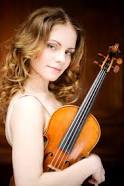 Wednesday 2nd September at 14.00 the last episode of Pentatunes, the programme made possible by record label PENTATONE. This time devoted to Julia Fischer.
She plays the Violin Concerto by Tsjaikofski and surprisingly – Julia Fischer also as pianist together with Martin Helmchen in Schubert's Fantasie op 103. They also play on their own instruments a movement from one of Schuberts violin sonatas.
And the prize question : Has Julia Fischer made recordings as pianist and if so, in which work?
You can send your solution to the Concertzender, Postbus 218, 3500 AE in Utrecht or via email to Info@concertzender.nl under the title: Prize question Pentatunes September.