Pentatunes 4th March 2015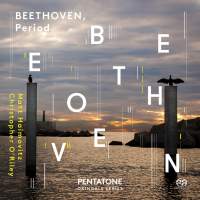 On Wednesday 4th March at 14.00 a new episode of Pentatunes. In conjunction with record label PENTATONE we're presenting new recordings of American composers and Beethoven. And you can win a cd.
Maat Haimowitz plays Beethoven's cellosonatas, the Oregon Symphony Orchestra conducted by Carlos Kalmar plays works by Antheil, Copland and Piston and there is a CD of Spiritual lovesongs. And of course a prize quiz in which you can win one of the cd's. The prize question will also be published here on the website after the broadcast.