Philippe Elan and Therese Steinmetz in Concertzender Actueel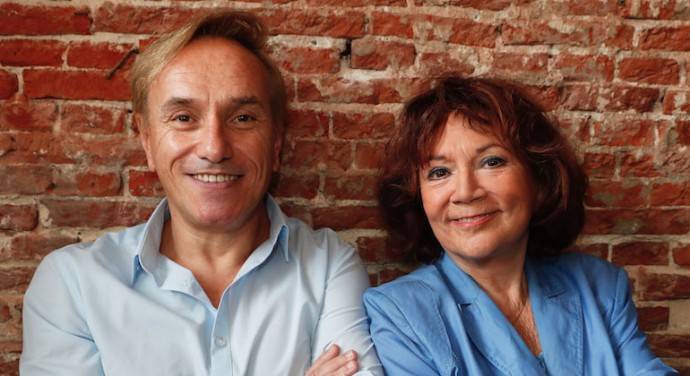 Evert Jan Nagtegaal interviewed in Concertzender Actueel the French singer Philippe Elan and singer Therese Steinmetz, whose new album Manège à trois will be presented on 7th March in the Betty Asfalt Complex . Listen !
Philippe Elan is a French singer living in the Netherlands and Therese Steinmetz is a Dutch singer who lives in the South of France. For the last few years together with saxophone quartet Amstel Quartet they've been performing and making albums .
Their new album 'Manège a trois' is on vinyl. The album title is inspired by the song 'Mon manège à moi' (1959) by Edith Piaf. 'Therese Steinmetz, the Amstel Quartet  and I are a carousel with three members', says Philippe Elan to the Concertzender. 'Our new album contains both golden oldies aand new gems from France and the Netherlands. The loveliest songs by Jacques Brel, Charles Aznavour, Edith Piaf, Ramses Shaffy, France Gall and many others. |The press wrote about the 2015 album Sax avec Elan by Philippe and the Amstel Quartet : 'This saxophone quartet is balm for the soul […] Piafs La Vie en Rose is  a revelation, the arrangements and Elans classical presentation are happily married.'
Evert Jan Nagtegaal speaks in Concertzender Actueel also to the South of France-based Thérèse Steinmetz, who went to live there after the death of her husband Gerrit den Braber . She says: 'Since I met Philippe Elan  five years ago we perform together regularly, with among other things the programme Amsterdam Paris. It is a musical dialogue which has received five stars, according to Thérèse Steinmetz. ' Next year we're releasing another new programme Over grenzen.'
The new album Manège à trois will be presented on 7th March at 20.30 in the Betty Asfalt Complex and dedicated to Paul Haenen. Order tickets here
You can hear the broadcast here.