Plan Kruutntoone with Reinier van Houdt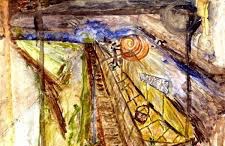 On behalf of the Olympic Committee and all the members of the goverment in exile and isolation! And with the hope that zorro will watch over you!
Pakrammel on Thursday 11 June 23:00 CET features the latest album by Plan Kruutntoone. The album 'pas maar op, want deze tas is van zorro (en zorro houdt van mij)' (take care, because this bag belongs to zorro, and zorro loves me) appeared recently on the label Esc.Rec. and is a further step into the wonderful world of Plan Kruutntoone. And…..take care…….because (this step) is into the bag that belongs to zorro!
Also in Pakrammel, new releases from schroothoop, the Jari Haapaplainen Trio and Giuseppe Lelasi.