Thou singest ye carol
Evert Jan Nagtegaal and the Art of Song.
Mikis Theodorakis (1925) – A life of Politics and Music.
Mikis Theodorakis – 'The ballad of the dead brother' from: Zorba's Ballet Suite
Hungarian State Symphony Orchestra and the Hungarian Radio Choir led by Mikis Theodorakis.
Mikis Theodorakis – 'Romancero Gitano' lyrics: Federico Garcia Lorca translated to Greek by Odysseus Elytis Antonio Torres Heredia I 2. Chamos apo agapē 3. Antonio Torres Heredia II 4. Hē kalogria hē tsingana 5. Hē pantermē.
Maria Farantouri vocals, orchestra and, of course, bouzoukis.
4 songs from: 'Ta Laïka' 1 Mia nihterida sti skepi – A bat in the roof 2. I porta mou ine anihti – My door is open  3Kathe proi pou xanarhizi – Each morning that begins again   S' afto to diskolo kero – In these hard times. Lyrics: Manolis Mitsias
Antonis Kaloyannis, Maria Dimitriadi and an orchestra led by  Mikis Theodorakis
From: The Ballad of Mauthausen: 'Ασμα ἀσμάτων' (Song of Songs). Lyrics: Jâkovos Kambanéllis.
Maria Farantouri sings together with an orchestra led by Mikis Theodorakis.
The Greek texts are spoken by Daphne Penna
More information about Mikis Theodorakis you can find on: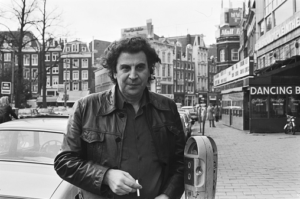 Maria Farantouri & Mikis Theodorakis
Produced & presented by: