Concertzender Now
Weekly current events, with CD of the week, concert schedule and interviews with guests.
Rerun of Concertzender Now of December 21st
Presentation Christmas broadcast: Stef Lokin and Pauline Verburg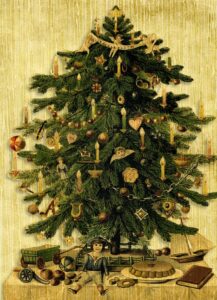 Lucette van den Berg
The Christmas broadcast of Current features singer Lucette van den Berg as a guest.
She is considered one of the leading voices of the new generation of Yiddish singers. She has performed in theatres, concert halls and festivals in Europe and North America.
Lucette sings new material by composers such as Beyle Schaechter-Gottesman, Alan Bern (Brave Old World), poet/composer Mikhoel Felsenbaum, and Yiddish compositions of her own.

CD of the Week
"In Winter's House" / Christmas with Tenebrae
Includes Joanna Marsh's "In Winter's House" and Benjamin Britten's "A Ceremony of Carols," opus 28.
Tenebrae olv. Nigel Short.
Signum Classics SIGCD 690.
Playlist
Joanna Marsh – Winter's House, Tenebrae, conducted by Nigel Short.
The CD is "In Winter's House – Christmas with Tenebrae."
CD of the Week | Classical Matters Dec. 18
Jacob van Eyck- 'the first Carileen'.
Johannette Zomer. Luis Beduschi, flute. Ensemble Armonia e Invenzione.
Concerts
Wim Henderickx – Dharana from Sutra, concerto for basset, clarinet, orchestra & electronics. Annelien van Wauwe, basset clarinet and NDR Radio Philharmonie, conducted by Andrew Manze.
Residentie Orkest | concerts Wim Henderickx
Bert Haanstra – Music from the short film 'Glas' by Bert Haanstra, 1958.
Pim Jacobs Quintet, Theo Loevendie, clarinet.
Alessandro Grandi – Salve Regina. Ensemble Oltremontana conducted by Wim Becu.
Apollo ensemble Christmas Vespers
Thijs Dercksen – Vigo III. What does cooking and composing have in common?
Thijs Dercksen composer, publicist
Valentin Sylvestrov – Melody post scriptum.
National Symphony Orchestra of Lithuania. Doelen Ensemble Rotterdam
Gian-Carlo Menotti. – Amahl and the nocturnal visitors.
Ike Hawkersmith, boy soprano. Kirsten Gunlogson, mezzo-soprano.
Nashville Symphony Chorus, Chicago Symphony Chorus, Nashville Symphony Orchestra Die Sankc a Liedt Dec. 25.
W.A. Mozart- Sonata for piano four hands in B, KV 358, Allegro.
Thomas Beijer and Nicolas van Poucke, piano.
The ultimate piano friends Nieuwe Kerk The Hague
J. S. Bach – Fugue à 4 voci from Die Kunst der Fuge.
Brisk Recorder Quartet Amsterdam (arrangement). Brisk
Mohamed Ahaddaf – Mohamed Rouicha 1 from: cd Mensajero de la Tradición.
13 Festival Internacional de Laúd Árabe de Tetuán, ud Mohamed Ahaddaf.
J. S. Bach – Kyrie Eleison, Hohe Messe.
Merseburger Hofmusik and Collegium Vocale Leipzig olv. Michael Schönheit.
Hohe Messe | Breda
Breton Christmas Song – Utrechts Politie Mannenkoor Excelsior.
Evert Jan Nagtegaal, baritone.
Chiel Meijering – Storms and Pain. Cello Octet Amsterdam. Cellot Octet Amsterdam
Jorge Rossy – Ventana. Album Puerta. Concert
Ligeti – Musica Ricercata no. 7 in B-flat major. Khatia Buniatishvili, piano.
Don Cossack Choir sings New Joy has Come.
Produced by: