De Klankbron
Over de materie, de beweging en de trilling waaruit muziek ontstaat.
De Khammu leven in noord Laos en de aangrenzende gebieden. Hoewel zij nu in Laos beschouwd worden als een minderheid van jungle en bergbewoners zijn zij eigenlijk de inheemse bewoners van het vasteland van Zuid Oost Azie. Een feit dat nog steeds herdacht wordt bij de viering van de stichting van Luang Prabang, Chiang Mai of Kengtung waarin men hen eer betoont als de oorspronkelijke 'meesters van het land'. De Lawa, Lamet, Khammu of aan andere aan hen verwante etnische groepen die een op elkaar lijkende Mon-Khmer taal spreken of een soortgelijke cultuur hebben.
Muziek is daar een belangrijke uiting van en kenmerkt zich door een sterk vocaal karakter, improvisatie en een poetische structuur. Iedereen kan zingen en iedereen kan zich ook uiten tijdens een van de vele bijeenkomsten waarbij de een na de ander zijn ervaringen deelt met de anderen in gezongen vorm. Daarnaast spelen stembuigingen, stemexperimenten en volume wisselingen een belangrijke rol. Vaste toonhoogten en lang gerekte gelijkblijvende tonen zijn simplificaties waarmee men zich niet bezighoudt. Qua instrumenten gebruikt men gongs, drums, fluiten, mondorgels en een hele reeks aan vers gemaakte instrumenten die ter plekke gemaakt worden van bamboe en andere planten. De instrumenten worden gebruikt om de stem mee te laten versmelten of om er bijzondere klanken aan te ontlenen door demping van de gongs bijvoorbeeld en bij meerdere instrumenten worden de klanken onderling verdeeld in plaats van de westerse praktijk van één speler die zoveel mogelijk klanken maakt op zijn instrument. Luistert u naar een uur muziek van de Khammu.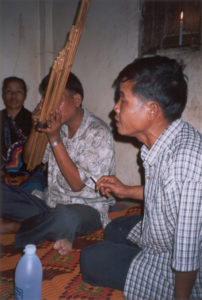 01 Teum Luang Nam Tha 2'26
Anon.
Luang Nam Tha
rec: Fred Gales
soundreporters.bandcamp.com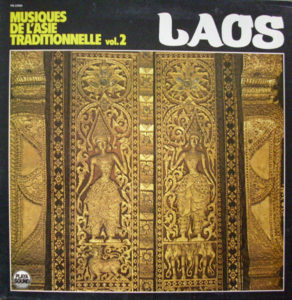 02 Chant k'mu 6'16
Nang Suy
LP Laos
Musique de l'Asie traditionelle vol. 2
Playa Sound PS 33502, B3
rec: Jacques Brunet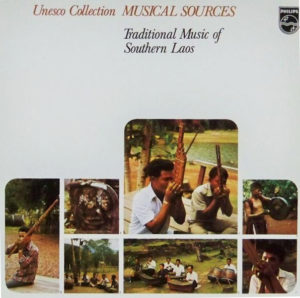 03 Music for the ceremony of the buffalo sacrifice 6'21
The musicians of the Muong village of Ta-Uy
LP Traditional music of Southern Laos
Unesco collection Musical Sources
Philips 6586 012, A4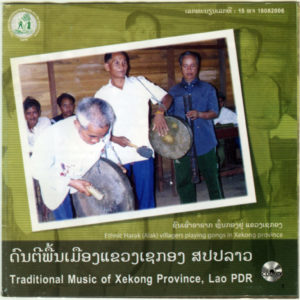 04 Ma-oi 5'57
Arak
CD Traditional music of Xekong province
Gape 18082006, track 10
05 Pii koon rook reedpipe 1'14
Thongsy
CD Bamboo on the mountains
Kmhmu Highlanders from Southeast Asia and the U.S.
Smithsonian Folkways recordings SFW CD 40456, track 1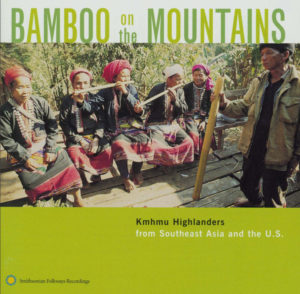 06 Toot flute 0'58
En Phongsavanh
CD Bamboo on the mountains
Kmhmu Highlanders from Southeast Asia and the U.S.
Smithsonian Folkways recordings SFW CD 40456, track 14
07 Teum song with pii reedpipe 3'26
Ta' Manh Ruamchit and Ta' Suan
CD Bamboo on the mountains
Kmhmu Highlanders from Southeast Asia and the U.S.
Smithsonian Folkways recordings SFW CD 40456, track 19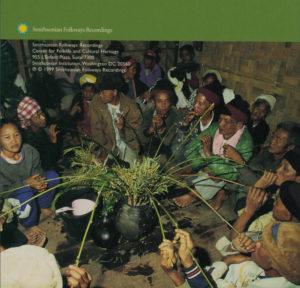 08 Dav dav bamboo tuning fork 2'06
Moong Thi Sy
CD Bamboo on the mountains
Kmhmu Highlanders from Southeast Asia and the U.S.
Smithsonian Folkways recordings SFW CD 40456, track 31
09 Teum song 2'05
Ya' Ak & Ya' Seu Keodaeng
CD Bamboo on the mountains
Kmhmu Highlanders from Southeast Asia and the U.S.
Smithsonian Folkways recordings SFW CD 40456, track 22
10 Briing tube zither 0'55
Plaw
CD Bamboo on the mountains
Kmhmu Highlanders from Southeast Asia and the U.S.
Smithsonian Folkways recordings SFW CD 40456, track 24
11 I am still small like a little child 0'15
Kam Raw
CD I will send my song
Track 3
Accompanying the book:
I will send my song. Kammu vocal genres in the singing of Kam Raw
Håkan Lundström
Nias, Copenhagen 2010
Which mother's child are you, dear
12 Yuun tiing style 1'10
13 Teem Cwaa style 1'03
Kam Ram
CD I will send my song
Track 10, 13
Accompanying the book:
I will send my song. Kammu vocal genres in the singing of Kam Raw
Håkan Lundström
Nias, Copenhagen 2010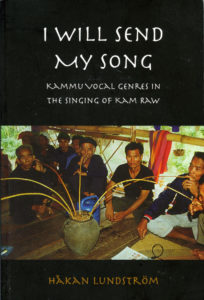 14 Teem dialogue 2'35
Leeng Yoon, Kam Raw
CD I will send my song
Track 20
Accompanying the book:
I will send my song. Kammu vocal genres in the singing of Kam Raw
Håkan Lundström
Nias, Copenhagen 2010
15 Ceem eey 1'28
Khamphoon
CD I will send my song
Track 21
Accompanying the book:
I will send my song. Kammu vocal genres in the singing of Kam Raw
Håkan Lundström
Nias, Copenhagen 2010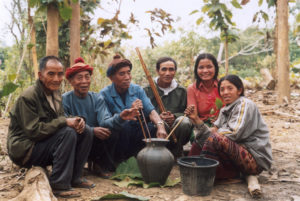 16 Khap Baw Saw 2'39
Voc: Po Pan, Khene: Nai Som Thong
Ban Somsay Mueng Oun
soundreporters.bandcamp.com
rec: Fred Gales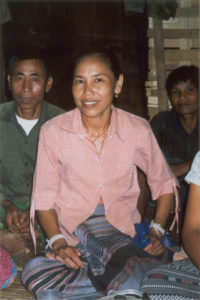 17 Suffer and worry 2'25
Voc: Nang Sün Nay Lang
Khap Ou Muang Ngoy Nam Le
Vieng Poukkha
soundreporters.bandcamp.com
rec: Fred Gales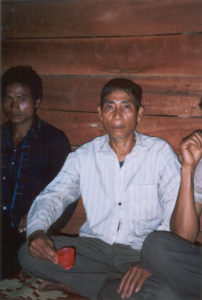 18 Falang soldier in the war time 5'34
Voc: Tao Jan Fon Siiwilai
Ban Mai Muang
soundreporters.bandcamp.com
rec: Fred Gales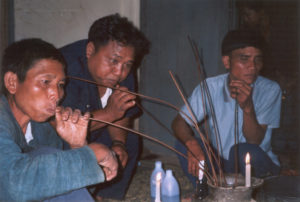 19 Teum Luang Nam Tha 2 7'07
anon.
Luang Nam Tha
soundreporters.bandcamp.com
rec: Fred Gales
Samenstelling: