Documento
Educational programme featuring early music. Poetic music from Italy and Austria on a consort of recorders.
15th, 16th and 17th-century music from Italy and Austria/Germany by Schein, Mainerio, Terzi, Schmelzer, Di Lasso, De Barberiis, Cavazzoni, Marenzio, Senfl, Newsidler, Praetorius and others.
Besides 14 recorders in all sorts, other instruments can be heard such as a Spanish double harp, a triple harp, a psaltery and a lute.
The Royal Wind Music led by Paul Leenhouts.
1. Johann Hermann Schein (c.1486-1542).
Suite X (uit Banchetto Musicale, Leipzig, 1617):
– Paduan.
– Gagliarda.
– Courente.
– Allemande & Tripla.
2. Giorgio Mainerio (1535-c.1582).
– Ballo Milanese.
3. Giovanni Antonio Terzi (c.1580-1620).
– Ballo Polacco.
4. Antonio Gardane (1509-1569).
– Venetiana Gagliarda.
5. Johann Heinrich Schmelzer (c.1620-1680).
– Sonata a 7 Flauti.
6. Melchior de Barberiis (c.1500-after 1549) / Philippe Verdelot.
– Madonna Qual Certezza.
7. Antonio Bertali (1605-1669).
– Sonatella a 5 Flauti.
8. Orlando di Lasso (1532-1594).
– Tristis est anima mea.
9. Giovanni Pierluigi da Palestrina (1525-1594).
– Viri Galilaei.
10. Girolamo Cavazzoni (c.1525-1577).
– Canzon sopra 'Falte d'Argens'.
11. Luca Marenzio (c.1553-1599).
– Occhi lucenti e belli.
12. Anonymous (Germany, 16th century).
– Mein Vleis und Müe.
13. Hans Newsidler (1508-1563).
– Mein Fleiss und Muehe.
14. Melchior Newsidler (1531-1591/92).
– Mein Fleiss un Mueh.
15+16. Ludwig Senfl (c.1486-1542).
– Mein Fleiss und Müeh'.
– Das g'laut zu speyer.
17. Hans Leo Hassler (1564-1612).
– Ach weh, des Leiden.
18. Jacob Praetorius (1586-1651).
– A solis ortus Cardine.
19. Wilhelm Brade (1560-1630).
– Galliard.
The Royal Wind Music:
Kamala Bain, Karolina Bater, Stephanie Barndt, Erik Bosgraaf, Karin Burgerhout, Lena Chatzigrigoriou, Susanne Frohlich, Arwieke Glas, Hester Groenleer, Terri Hron, Maria Martinez Ayerza, Esther Nuijten, Laoise O'Brien, Katrin Sons, renaissance recorders. Paul Leenhouts, conductor.
Gunnhildur Einarsdottir and Johanna Seitz, baroque harp. Israel Golani, lute. Elisabeth Seitz, psaltery.
(CD: Alla dolce ombra, Lindoro MPC-0712, 2002)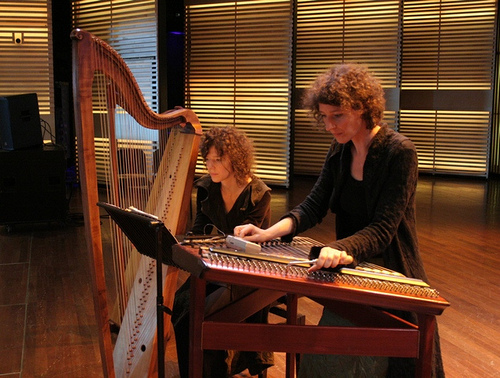 Johanna and Elizabeth Seitz
Producer: