Exitos Musicales
LATA MANGESHKAR (part 4) "THE MELODY QUEEN" of India
"SPECIALS" (part 3)
Lata Mangeshkar has been in the American 'Guinness Book of World Records' as the 'most recorded woman in the world', with a total number 25.000 recordings, since 1974. But even die hard Lata fans think this number is debatable. Her career may have spanned 60 years, but festivals, holidays, vacations, and sick periods, would have made this ridiculously high number nigh on impossible.
Even Lata herself says she is 'unsure where people got this information, she certainly never kept track'. It is true, of course, that Lata has recorded thousands of songs for hundreds of films and composers. Add to that a plethora of classical, non-classical and religious songs. Plenty of reason for us not to just reach into the 'Cornucopia', but to compile a list of 'Specials'. Songs she released outside of the movie industry. However, this is also turning out to be harder then expected. The song count has risen to 30.000, even though she stopped recording film songs years ago.
In this 'Specials' series we can only bring you 'not to be missed' songs. Like the song she has been singing repeatedly since 1963 in all the halls where she performs, both at home and abroad, with the whole audience standing up, like a national anthem. And that's kind of what it is. It is a song that was made 3 months after the end of the 'Sino-Indian War', a war started by China because they wanted to conquer a piece of the Himalayas. Thousands of people died or went missing and it could have easily turned into another World War. China sought assistance from the Soviet Union and India went to the Americans, all while those two were in the midst of the Cold War. Luckily, the Sino-Indian War did not last very long.
Lata sang the song in the presence of Jawaharlal Nehru, the first Prime Minister of India after they gained independence from England. She made the Prime Minister cry. The next day, he invited Lata over for tea, where she met the entire Gandhi family such as Indira Gandhi and her two sons who were all important in Indian politics. In modern times, the song, which lasts about 5 minutes, is often performed with a choir and an orchestra of over a hundred people. The song is called: "Aye Mere Watan Ke Logo" (Oh, People of My Country) and we have recorded a Dutch version of the English translation.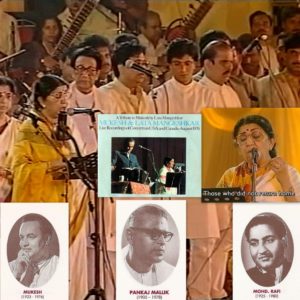 Playlist:
 1) Bhooli Hui Yaadon – film: 'SANJOG' (1961)
Lata Mangeshkar
Composer: Madan Mohan, music; Raijinder Krishnan, lyrics
Album title: SHRADDHANJALI VOL. 2
Year: 1994
Label: CDF 132210/11 (1994)
Followed by the original by MUKESH
2) Tum na jane kis jahan men – Film 'SAZAA' (1951)
Lata Mangeshkar
Composer: S.D. Burman
Album title: A Tribute to Mukesh by Lata Mangeshkar
Year: 1976
Label: EMI ECSD 5532
3) Jis desh men ganga behti hai – Film: idem (1960)
Mukesh
Composer: Shankar-Jaikishan
Album title: A Tribute to Mukesh by Lata Mangeshkar
Year: 1976
Label: EMI ECSD 5532
4) Sawan ka majhina – Film: 'MILAN' (1958)
Mukesh & Lata Mangeshkar
Composer: Laxmikant Pyarelal
Album title: A Tribute to Mukesh by Lata Mangeshkar
Year: 1976
Label: EMI ECSD 5532
5) Is jahan ki nahi hai – Film 'KING UNCLE' (1993)
Lata Mangeshkar & Nitin Mukesh
Composer: Tumhari ankhein
Album title: Top Best songs
Year: 1993
6) Dil ka bhanwar – Film 'TERE GHAR SAMNE (1963)
Lata Mangeshkar
Composer: S.D. Burman, Lyric: Hasrat Jaipuri
Album title: Sharaddhanjali Vol 2 Disc 2
Year: 1994
Followed by the original by MOHAMMED RAFI
7) Tasveer Teri Dil Mein –  Film 'MAYA (1961)
Mohammed Rafi & Lata Mangeshkar
Composer: Salil Chowdhury / Majrooh Sultanpuri
Album title: various albums
Year: 1961
Label: various albums
8) Tere Mandir Ka Hoon Deepak – Devotional
Lata Mangeshkar
Composer: PANKAJ MULLICK
Album title: Sharaddhanjali Vol 2
Year: 1994
Label: CDF 132210/11 (1994)
Followed by the original by PANKAJ MULLICK
9) Dharti Kahe Pukaar Ke – Film: DO BIGHA ZAMIN (1953)
Lata Mangeshkar & Manna Dey
Composer: Salil Chowdhary, music
Album title: Film
Year: 1953
Label: Soundtrack
10) Aye Mere Watan Ke Logo – (Oh, People of My Country), patriotic song
Componist: C. Ramchandra, music; Kavi Pradeep, lyrics
Album title: Soundtrack of original
Year: 1963
Produced by: