Orient Express
in company of the 'ud ( Episode 2)
The second episode of the series In company of the Ud, You can find the first part by clicking here.
This series, "in company of the 'ud" is dedicated to the Middle Eastern lute:  The Ud  (also spelled  'ud or Oud) is one of the most important instruments in the Middle East, the Eastern Mediterranean and North Africa.
In this episode we will listen to an innovative young Egyptian Ud player and researcher Tarek Abdallah. Tarek is part of a  young generation ud musicians that are putting the instrument back on the map as a solo instrument. Something missed in Egypt for few decades prior to the (late) 1990s. He is also a good example of innovating and modernizing from within the musical tradition rather than mixing with other non-eastern musical styles. Tarek will take part of the Dutch Ud festival and is live in Rotterdam on November 2nd. We'll listen to his wasla  (suite) bayyati accompanied on the riqq by the great Adel Shams Eddin.
We will listen as well to an older generation Egyptian players. A rare  recording from the early 1970s of the Egyptian Ud player Gomaa Mohamed Ali recorded in Germany. All pieces are in Bayyati mode.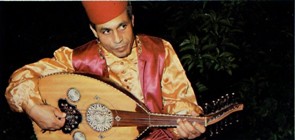 Produced by: