Panorama De Leeuw
Panorama de Leeuw XXIV: Schönberg Ensemble #4
Thea Derks traces Reinbert de Leeuw's musical tracks by her biography Reinbert de Leeuw, mens of melodie.
In the 80s of the last century, Reinbert de Leeuw and his Schönberg Ensemble increasingly worked together in musical projects. In 1987 for instance, the "Nieuwe Serie" was initiated in cooperation with a few other ensembles, but due to a lack of funding it stopped after a year.
The series "Proms in Paradiso", which started in 1986 and was initiated by the Asko Ensemble and the Nieuw Ensemble, was more succesful. By joining forces with other ensembles it was possible to offer a consistent series of concerts bringing new music to the public.
Not only were the compositions from the 20th century promoted, which had become classics themselves in the meanwhile, there also were countless (world) premiers. The Schönberg Ensemble performed here many times, also after the series moved to the Muziekgebouw aan 't IJ in 2005 and changed its name to "Proms aan het IJ".
In this series there was a cooperation with the Nederlands Kamerkoor. In the first series they performed an a cappella concert with "Car nos vignes sont en fleur" by Ton de Leeuw. Reinbert de Leeuw developed strong ties with the choir and at his request Sofia Gubaidulina composed her masterpiece "Jetzt immer Schnee" for the choir together with the Schönberg Ensemble.
Hint: If you purchase the biography via this link you will support the Concertzender for free.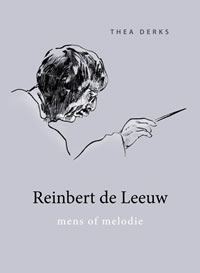 1. Ton de Leeuw, Car nos vignes sont en fleur.
Nederlands Kamerkoor conducted by Ed Spanjaard.
2. Sofia Gubaidulina, Jetzt immer Schnee
Nederlands Kamerkoor and Schönberg Ensemble conducted by Reinbert de Leeuw.
Compilation, host and sound engineer: Thea Derks
Produced by: