The Night: Contemporary Music
Contemporary Music Night #80 – Wandelweiser # 33.
The Eightieth two-weekly Contemporary Music Night on Concertzender with tonight Episode Thirty-Three, the last of a long series with all the published records of the Edition Wandelweiser label in chronological order from 1996 till now.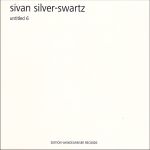 1. Sivan Silver-Swartz. Untitled 6 (2019) Part II. 22:40
Nigel Deane: violin. Patrick Behnke, Tanner Pfeiffer: viola. Tal Katz, Julius Tedaldi: cello.
CD: Edition Wandelweiser Records EWR 1920
|
|
|
  Urs Peter Schneider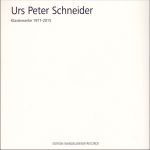 Klavierwerke 1971-2015.
2. Urs Peter Schneider. Clavierubung (1971-79) Einundachtzig Stücke für präp. Klavier (nach Raimundus Lullus). 63:36
3. Urs Peter Schneider. So Beseelte (2008-14) Siebenundzwanzig Silbentöne (nach Martin Luther). 5:06
4. Urs Peter Schneider. Ein Jahreslauf (1976-80) Vierundzwanzig Reigen (nach Rudolf Steiner). 34:12
5. Urs Peter Schneider. Aus der Tiefe (2013-15) Acht Zumutungen (nach Ita Wegmann). 14:59
Urs Peter Schneider: piano.
CD: Edition Wandelweiser Records EWR 1921/22
|
James Tenney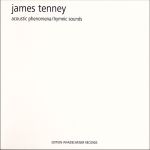 6. James Tenney. Harmonium # 2 – for Lou Harrison (1976). 19:31
7. James Tenney. Critical Band for any 16 or more sustaining instruments (1988/2000). 17:16
8. BONUSTRACK: Burkhard Schlothauer. Accidental microtonal sounds – Together (2019. 6:06
Ensemble Open Music Gera: Andreas Nordheim: slide trumpet. Elena Kakaliagou: french horn. Hilary Jeffery: trombone. Rishin Singh: trombone. Robin Hayward: tub. Peer Salden: alto clarinet. Burkhard Schlothauer: musical director, violin. David Hummel: violin. Ullrich Phillip:double bass. Alan Torres: church organ samples.
CD: Edition Wandelweiser Records EWR 2001
|
  Andreas Nordheim.Ole Schmidt.Chris Weinheimer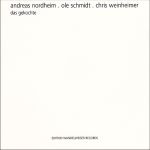 9. Andreas Nordheim / Ole Schmidt / Chris Weinheimer. Das Gekochte. 1:11:43
Andreas Nordheim: cornet. Ole Schmidt: clarinets. Chris Weinheimer: flutes.
CD: Edition Wandelweiser Records EWR 2002
|
|
  Eric Wong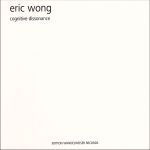 Cognitive Dissonance.
10. Eric Wong. Spin Down. 8:56
11. Eric Wong. Blink. 16:34
12. Eric Wong. Public Opinion. 18:12
Eric Wong: electronics (ableton live).
CD: Edition Wandelweiser Records EWR 2003
|
All further information can be found on www.wandelweiser.de.
---
Produced by: