The Night: Contemporary Music
Contemporary Music Night #92 – Made to Measure # 1.
The Ninty-second  two-weekly Contemporary Music Night on Concertzender with tonight the First of an about Eight episode series with all the published records of the Made to Measure series from the Belgian Crammed Discs label, in chronological order from 1984 till now. Today we start with a 1987 compilation with parts of the first 16 episodes.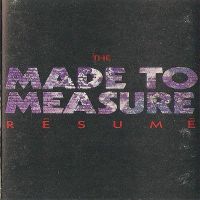 1. Aksak Maboul. Ossip & Lili – Odessa. 5:04
2. Hector Zazou. Chez le commandeur – l'Apparition. 4:12
3. Blaine L. Reininger & Mikel Rouse. Side Wind (1984). 4:05
4. Peter Principle. Tippi Rider – Pandemonium. 6:02
5. Hector Zazou. Cine Città. 3:17
6. Mikel Rouse. Hardfall (1983). 4:02
7. John Lurie. Car Florida. 3:04
8. Sussan Deyhim & Richard Horowitz. Desert Equations. 6:55
9. Minimal Compact. Clock bird. 5:33
10. Yasuaki Shimizu. Tachikawa – Seiko 1 – Shiseido – Honda. 4:51
11. Daniel Schell & Karo. Un Celte. 5:04
12. John Lurie. End Titles. 2:43
13. Benjamin Lew & Steven Brown. Passage- Au Sujet d'un Paysage. 5:32
CD 1987 – Crammed Discs ‎– Made To Measure MTM 1-16 CD
|
  Various | Made to Measure Vol. 1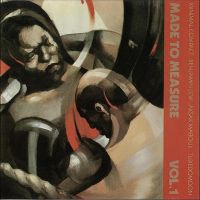 14. Steven Brown. Pieces for Nothing 1-4. 16:39
Minimal Compact: Jeannot Gillis: violin. Steven Brown: saxophone, clarinet. 4:31
15. Benjamin Lew. À la rechèrche de B. 2:51
Benjamin Lew: Electronics.
16. Aksak Maboul. Scratch holiday. 4:15
Aksak Maboul & The Honeymoon Killers.
17. Aksak Maboul. Un Chien Merite une Morte de Chien. 12:24
Aksak Maboul: electronics
18. Blain L. Reininger / Steven Brown. Verdun 1-3. 12:01
Tuxedomoon.
LP 1984/ CD 2021- Crammed Discs ‎– Made To Measure MTM 1
|
  Hector Zazou | Reivax au Bongo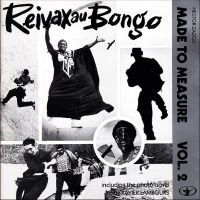 19. Hector Zazou. Générique. 2:38
20. Hector Zazou / Zazou Bikaye. Chez le commandeur. 2:53
21. Hector Zazou. Le passage de la frontière. 0:59
Hector Zazou and Musicians.
22. Hector Zazou / Kanda Bongo. Le village du Chef Bingo. 4:03
Kanda Bongo man: vocals. Hector Zazou and Musicians.
23. Hector Zazou / Zazou Bikaye. Reivax broie du noir. 2:29
24. Hector Zazou. L'apparition. 1:16
25. Hector Zazou / Zazou Bikaye. Chanson Bongolaise. 3:52
26. Hector Zazou. Reivax et son cheval Pepito. 1:11
Hector Zazou and Musicians.
27. Hector Zazou. Que le Bongo est beau. 4:58
28. Hector Zazou. Un héros. 2:19
29. Hector Zazou. La poursuite. 2:31
30. Hector Zazou. Reivax (thème). 4:43
31. Hector Zazou . Devant la mer. 5:03
Catherine Renoult: mezzo-soprano. Philippe Herpin: saxophone, bass clarinet. Hector Zazou: electronics.
32. Hector Zazou. L'embarcadère. 1:12
33. Hector Zazou. Le bain royal. 3:25
Hector Zazou and Musicians.
LP 1984 / CD 1988 – Crammed Discs ‎– Made To Measure MTM 2
|
  Mikel Rouse & Blaine L. Reininger | Colorado Suite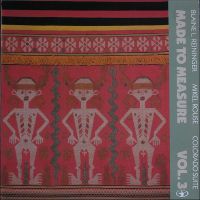 34. Mikel Rouse. Side Wind (1984). 6:42
35. Blaine L. Reininger. Windy Outside (1984). 6:55
36. Mikel Rouse. West End (1984). 7:59
37. Mikel Rouse. Sun Study (1984). 6:53
Mikel Rouse: synthesizer, drumulator. Blaine L. Reininger: voice, violin, synthesizer, drumulator.
12"MiniLP 1984 – Crammed Discs ‎– Made To Measure MTM 3
|
|
|
Peter Principle | Sedimental Journey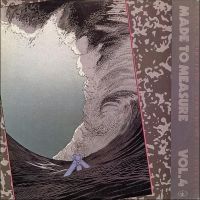 38. Peter Principle. The Anvil Chorus. 5:26
39. Peter Principle. Pandemonium – Spring. 5:27
40. Peter Principle. Friend Of The Extinction. 4:45
41. Peter Principle. Tippi Rider. 4:23
42. Peter Principle. The Eleventh Race. 6:18
43. Peter Principle. Werewolves At The Gates. 3:57
44. Peter Principle. Dawn. 3:22
45. Peter Principle. Noon – Ain't Superstitious. 3:59
46. Peter Principle. Dnieper. 3:42
47. Peter Principle. Before The Wind. 4:25
Saskia Lupini: panpipes (42+44). Peter Principle: voice, electronics, guitars, percussion.
LP 1985 / CD 1988 – Crammed Discs ‎– Made To Measure MTM 4
|
  Hector Zazou | Geographies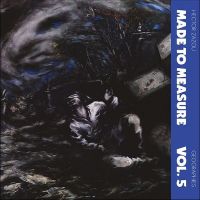 Hector Zazou. Géographies.
48. Ciné citta: Gare centrale. 3:15
49. Denise a Venise. 5:19
50. Sidi Bel Abbes. 5:42
51. Vera C.. 2:32
52. Pali Kao. 4:23
53. Au bout du monde. 3:56
54. Motel Du Sud. 1:26
55. Sous les bougainvilliers. 3:07
56. Des cocotiers. 5:20
Catherine Renoult (49+50+52), Christian Chauvot (50), Sylvie Drai (51), Laurence Bonneterre (56): voice. Geographies Ensemble.
57. Hector Zazou. 10 Proverbes Africains I-X. 17:16
Quatuor Vocale.
LP 1984 / CD 1989 – Crammed Discs ‎– Made To Measure MTM 5
|
Mikel Rouse | A Walk In The Woods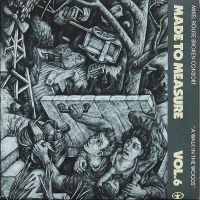 58. Mikel Rouse. Friendship '84 (1984). 5:46
59. Mikel Rouse. Big Pine II (1983). 6:36
60. Mikel Rouse. Airland 2000 (1984). 4:32
The Mikel Rouse Consort: Mikel Rouse: synthesizer. Susan Barrett: oboe. James Bergman: (double) bass, synthesizer. Charles Bumcrot: trumpet. Phillip Johnston: soprano saxophone. David Krakauer: clarinet. Susan Shumway: violin, viola. Ethan Silverman: bassoon.
LP 1985  – Crammed Discs ‎– Made To Measure MTM 6
|
All further information can be found on www.crammed.be.com
---
Produced by: