Rein de Graaff – Dick Vennik 4+2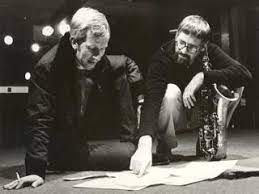 Saturday 19th November 2022, 17:00 uur – House of Hard Bop. The Rein de Graaff-Dick Vennik Quartet has been going for more than 25 years. A rarity for a small jazz ensemble. In 1989 appeared the album Jubilee, which will be broadcast in its entirety in this programme.In three of the pieces trumpeter Jarmo Hoogendijk and trombonist Bart van Lier are added to the group. With one exception all the pieces are written by pianist De Graaff and/or tenor Vennik. Koos Serierse plays bass, Eric Ineke is the drummer.
Going Up is mid-tempo but has a lot of energy. Lovely transitions between the soloists, articulated by the rhythm section. In Cornish Pixie the form is determined by the changes between time/double time. The title will be familiar to readers of Tolkien's Lord of the Rings. The constantly recurring whole tone passages can, if you like, be associated with a fairytale atmosphere . Lots of space for bass Serierse, who brings the piece to an end in silence.
The last piece, Why Not, breathes a different atmosphere. Improvisations in a nice tempo on the modal scheme of Miles Davis' So What. That piece appeared in 1959 on the famous lp Kind of Blue. It can't be a coincidence that the titles also rhyme. In Vennik's tenor solo  John Coltrane's influence is audible – the tenor on the Davis album.
In particular the sextets have a recognisable, characteristic sound, but each piece has its own stamp.
Dick Vennik – recently passed away – was also a superb flautist. His clear sound is to be heard on the opening piece of this programme: Cloud People, from the album of the same name from 1983.
(The first broadcast was on 15th October, dedicated to the Rein de Graaff-Dick Vennik Kwartet. That can still be heard. Click for the broadcast, and Click for the accompanying Newletter.)
House of Hard Bop – Eric Ineke