Saturday 19th December U Jazz Festival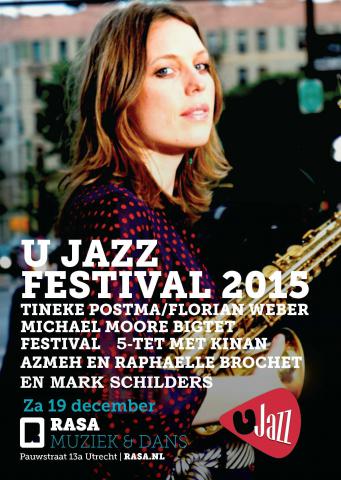 The yearly U Jazz festival will be taking place on Saturday 19th December in RASA Muziek & Dans in Utrecht. The 2015 edition is compiled by U Jazz around and with saxofonist, composer and bandleader Tineke Postma (1978). This year she won the Buma Boy Edgarprijs, the most important Dutch prize for jazz and improvised music. Starts at 19.30
Tickets €25/€20 (members U Jazz of RASA-pas). Reserve via: www.rasa.nl/programma/event/U-Jazz-festival-2015
The bigtet of reedplayer Michael Moore, one of the jewels of the Zomerjazzfietstour 2015, will be playing the opening concert. Moore has earned his credentials in composed jazz, free improvisation and in cross-over projects between jazz and non-western music. The bigtet is a motley collection, comprising musicians with whom he has worked for years and relative newcomers.
Even before Tineke Postma graduated in 2003 cum laude from the Conservatorium of Amsterdam her exceptional talent had already been recognised both here and abroad. Technique, lyrical, surprising harmonic insights, original compositions and an immediately recognisable sound is what characterises the Heerenveen born saxofonist. She lived and worked regularly in New York and established herself in the mecca of jazz. Top American musicians such as Geri Allen (piano), Terri Lyne Carrington (drums) and Esperanza Spalding (bass) enjoy the creative challenge of playing with her. Together with her former mentor saxofonist Greg Osby she leads the group Sonic Halo. In Utrecht she'll be playing a set with the renowned German pianist Florian Weber. This pianist has worked with prominent musicians such as Lee Konitz, Tomasz Stanko, Lionel Loueke and our own Eric Vloeimans.
The closing concert will be played by an ensemble with a surprising lineup. In the summer of 2015 Tineke Postma played during the Morgenland Festival with an international group of musicians who started a dialogue with each other between jazz and worldmusic, avant-garde and tradition. This successful formula is going to be repeated during the U Jazz festival on a smaller scale. Tineke Postma and Florian Weber will be playing with clarinettist Kinan Azmeh, drummer Mark Schilders and singer/performer Raphaella Brochet.
The Catching Cultures Orchestra, a collaboration between the Band zonder Verblijfsvergunning (musicians from AZC's in the neighbourhood of Utrecht) and Orkest De Tegenwind will be filling in between the concerts.
See also: www.ujazz.nl/Fest19december2015 and ww.jazz030.nl.
The Concertzender will be recording the U-Jazzfestival .