Stockhausen aus Licht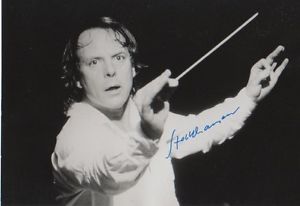 Karlheinz Stockhausen's opera cycle Licht is the Ring of the Nibelungen of our time. It is the culmination of the musical development of one of the most interesting musical minds of the 20th century and contains riches which are too huge to summarise and realise. Even a partial performance of this work is in these circumstances a special event. That event takes place this month during the Holland Festival. A good enough reason to award Composer of the Month to the composer Stockhausen and his adventurous journey which for him can continue after his life.
Licht: 27 years of work
Composer of the month is Karlheinz Stockhausen. This month De Nationale Opera is performing a broad selection from Stockhausen's opera cycle Licht. This enormous work, on which the composer worked for 27 years, has many aspects and is the culmination of a long, highly interesting development. Today a few highlights from that development. The German Stockhausen was born in 1928. His demented mother was murdered by the nazi's and his father died on the Eastern Front. After the Second World War he didn't believe in returning to the prewar world and looked as a composer for new methods of expression. In the 50's he was one of the pioneers of electronic music and in 1957 he broke through with one of the classics of early electronic music: Gesang der Jünglinge. In this piece he combined electronic sounds with a boy's voice which sometimes hadn't broken. The tension between human and non-human sounds gives this piece its character.
Gruppen
After Gesang der Jünglinge he concentrated on a new musical topic: space in music. Sound sources could be spread across a stage and engage in dialogue with each other. That idea, new in the 50's, resulted in his Gruppen voor drie orkesten from 1958. A symphony orchestra is divided into three groups, not even in the traditional groupings of strings, wind and percussion. Each group comprises musicians from different instrumental families, which produce completely new sounds. If you have multiple loud speakers at home, set them wide apart. The spatial performance is essential for this work. Imagine yourself sitting in a concert hall with an orchestra in three corners. The listener is assaulted from three sides. When and by who is the surprise.
Another area in which Stockhausen loved to experiment was the form of musical piece. Up to 1950 the composer wrote a number of movements and the musician played what was written. After 1950 several composers said: the performer can choose the playing order themselves. Stockhausen put this into practice. The pianist David Tudor played the Pianostuk nr. 11 from 1957 in at least four versions. Here is one of the four. If you'd like to know how different it can sound, listen to the other three. This piece is revolutionary in other ways too, such as the treatment of the instrument.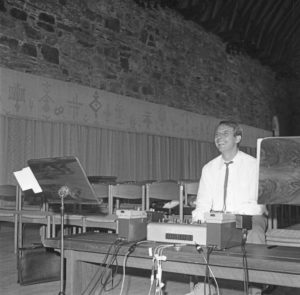 Japanese influences
In 1970 the World Fair was held in Osaka Japan. Stockhausen was asked to compose the music for the German Pavilion and wrote a piece which encountered enormous resistance because of its four hour length. Actually for some people that what makes it attractive. Stockhausen for his part became fascinated by Japanses culture. At the same time he did what he wanted with Japanese culture. Typically Japanese and typically Stockhausen in this piece is the fascination with percussion sound. Typically Stockhausen is the principle that time doesn't move forward regularly, but sometimes seems to stop and then runs spasmodically. Stockhausen was always fascinated by the tension between the moment and the form, also in this work.
Stockhausen brought all of his sources of inspiration together in Licht, a cycle of seven operas. In so many ways it's a lifetime's work: from small groups to huge orchestras, instruments and electronics, short and long movements. There is a story, but that is overwhelmed by the enormous contrasts in the music. The movements can also be played independently. Licht is an opera which has to be seen. Direction and decor are important. If you see and hear the opera then you can understand why Stockhausen's music was so criticised and inspired so many musicians to untold heights. The coming performances of Licht are a unique opportunity for lovers. You might have to wait years for another chance.
Programme name Composer of the Month
First broadcast Tuesday 4th June 2019 18.00-19.00.