Sunday 24th June : From Sensenta via X-Rated to X-Ray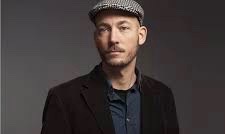 On Sunday 24th June we're going  to have a live party in the Concertzender studio from 18:00 to 23:00 CET.
The programme Sensenta by Harrold Roeland will have its 100th episode, Martijn Comes (photo) will leave the Concertzender and his regular programme Kraak Helder, with a live farewell concert and Bob Rusche in an extra long X-Rated will be giving the stage to Dutch heavy industrial-doom-jazz duo Dead Neanderthals, also with an exclusive concert.
Specially for this episode Bob wil be talking to the musicians, composers and programme makers. Our special guest, publisher and composer Sietse van Erve, will be asked by Bob about his life's work: the publishing of compositions by contemporary sound artists, via his label Moving Furniture Records, and composing his own sound art, under the name Orphax.
Watch out:
On Sunday 24th June we're giving three 'friends of the Concertzender' the chance to be present at this live evening, at the broadcasts by Sensenta and X-Rated and the live-concerts by Martijn Comes and Dead Neanderthals.
Listen over the coming weeks to X-Rated for more information about how you can be present at this broadcast. You only have a chance if you're a 'friend of the Concertzender' .