Tabla solos in World Minerals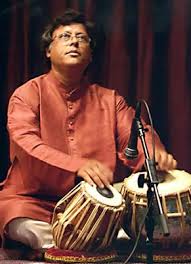 World Minerals on Friday 13th February 22:00 – 23:00 presents an hour of tabla solos, displaying the enormous variety of rhythms that can be played on this well-known percussion instrument used in Northern Indian raga music.
The tabla consists of two separate drums, the dayan and the bayan. The dayan produces the higher tones and the bayan produces the bass tones. The dayan is almost always played with the right hand and the bayan with the left hand, but occasionally ithe tabla is played the other way around.
In this programme eight famous players will be demonstrating their virtuosity on the tabla. You will hear solos by Ahmed Jan Thirakwa, Anindo Chatterjee, Satyajit Talwalkar, Sanju Sahai, Yogesh Samsi, Subhankar Banerjee, Swapan Chaudhuri and Zakir Hussain.
For more information see our programme guide