Tango: song of Buenos Aires, episode 5, Love
Friday evening 15th May from 22:00 – 23:00 is the 5th edition of the programme series Tango: Song of Buenos Aires in which we give a social-cultural panorama of Buenos Aires in the time of the classic tango. Each episode is dedicated to one theme and Friday it is: Love.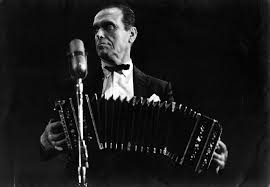 As well as quotes from the book, lots of music with recordings of the orchestras of among others:
Pedro Laurenz (see foto), Juan D'Arienzo, Enrique Rodriguez, Edgardo Donato, Terig Tucci, ] Carlos Di Sarli, Francisco Canaro, De Angelis, Osvaldo Pugliese.
Singers are: Juan Carlos Casas, Alberto Echagüe, Armando Moreno, Horacio Lagos, Carlos Gardel, Argentino Ledesma, Tita Merello, Mario Pomar, Carlos Roldán, Carlos Dante, Julio Martel, Juan Carlos Godoy, Roberto Rufino, Alberto Moran, Roberto Chanel.
For more information got to our guidetext