Thad Jones, 1923-1986 (3)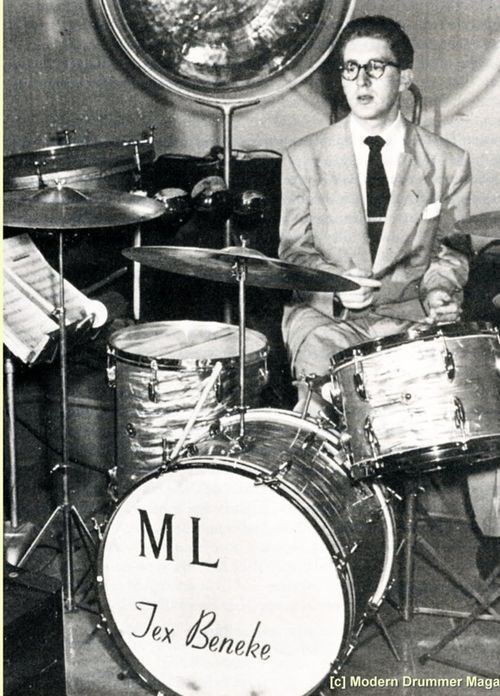 Saturday 19 August 2023, 17:00 CET – House of Hard Bop.
Thad Jones was born in 1923, one hundred years ago. He was a trumpeter, composer and arranger and those three aspects of his musicianship came to maturity in the Thad Jones/Mel Lewis Orchestra. This big band was founded in the mid-1960s and was quickly considered to be the most innovative orchestra since the swing era. Composer/arrangers such as Bob Brookmeyer, Jim McNeely, Bob Mintzer and Maria Schneider further developed the work of Thad Jones.
Drummer Mel Lewis (pictured) has been praised by peers for the energetic power of his drumming and for his unique cymbal work. A quote from drummer Buddy Rich: "Mel Lewis doesn't sound like anybody except himself."
The album Monday Night (Live at The Village Vanguard) was recorded in 1968. Jones composed and arranged Say It Softly. Slow tempo, beautiful lyrical theme, but also powerful tutti passages. Similarly Kids Are Pretty People – also by Jones – has a slow pace. From 4'40", a few striking bars provide 'programmed chaos', after which the piano, with dry humour, introduces a quote from Bizet's opera Carmen – a quote that pops up frequently in the jazz world. The audience responds to the humor in it and this was probably also a humourous moment visually during the concert.
In 1914 W.C Handy composed Saint Louis Blues. The piece remains a standard to this day. Arranger Bob Brookmeyer starts fairly traditionally, but soon turns it into something 'Brookmeyeresque'. From the second chorus we enter a world of weird harmony. Brookmeyer takes plenty of time – more than twelve minutes – to develop the structure. Solid sections alternate with solos by a single instrument – something that we now expect from this orchestra.
Thad Jones was responsible for The Waltz You Swang For Me, and with that number the pace picks up. There are also swing accents from the orchestra on the two and a half beat of the three-four time. And for bass-sensitive ears: here, and in the other pieces, Richard Davis's bass is a pleasure to listen to.
The album Central Park North was recorded a year later, in 1969. You will hear three tracks from it. More about these in the next News item.
House of Hard Bop – Eric Ineke