The Amsterdam Andalusian Orchestra in Acoustic Roots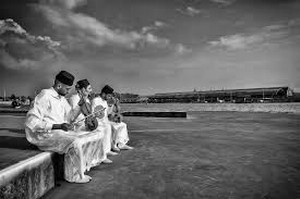 On Friday 16th January you can listen to the first exciting edition of Acoustic Roots with the Amsterdam Andalusian Orchestra !
The serene peacefulness of the Pieterskerk will be replaced by the thrilling rythm of the darbuka and tar, the typical violin style, the sound of the ud and the exciting singing of the Amsterdam Andalusian Orchestra during the first edition of Acoustic Roots from the Pieternel..
Musical heritage
The Amsterdam Andalusian Orchestra works to preserve the musical heritage of Andalusia. Between the 9th and 15th centuries this part of Europe was famous for its music, literature and science..
Nowadays the region is called Al Andalus and is home to diverse ethnic and religious groups. Today the Amsterdam Andalusian Orchestra tells the story of Al Andalus and describes its significance for present day society through music, theatre, literature and education.
The Andalusian repertoire comprises 24 chapters, developed during the period when the Moors inhabited the Iberian Peninsula. These themes cover a number of themes including love, power, nature and spirituality. natuur, spiritualiteit.
The style of music, which came to be called the 'Tarb Al-Andalus' , was a new form combining Jewish, Christian, Persian and Arabian sounds. It was played on a wide variety of instruments: classical violln,, qanun, Andalusian violin, rebab, tar (tambourine), oud (lute) en derboka (percussion).
After the Spanish Inquisition this musical style moved on to Marocco and Algeria. Unfortunately along the way half of the repertoire was lost.
Today 11 of the chapters are played, consisting of various musical 'sana'at' . The percussion determines the musical rhythms of which five form the base in the Andalusian repertoire. As well as the main chapters Andalusian music also includes instrumental (taqsim) and vocal (mawwal) improvisation. Each generation of Andalusian musicians adds its own contribution as well as the eleven basic main chapters.
The musicians are zijn:
Mohamed Chairi – violin, vocal
Dwight Breinburg – violin, vocal
Mohamed Ahaddaf – oud
Jaafar Lougemani – violin
Brahim Afzan – Tar, percussion
Emad Ghajjou – Darbuka
Abdelgafour Attahiri – vocal
Broadcast:
Friday 16 January 2015, 21.00 – 22.00
Click here for programme information