The Goksel Yilmaz Ensemble in Acoustic Roots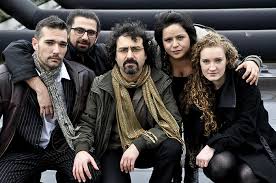 A recording made by the Goksel Yilmaz Ensemble in the Pieternel of the Pieterskerk in Utrecht will be broadcast from 2100-2200 CET on Friday 17th October.
Goksel Yilmaz was born in the Netherlands of Arab parents. He grew up in Southern Turkey. He began playing the saz ( a Turkish string instrument ) at an early age and specialised in Turkish folkmusic.
The Goksel Yilmaz Ensemble was founded in 2006, since when it has performed in Belgium, Turkey and the Netherlands. Their debut cd " Gezgin " ( which means "Traveller" ) was very well reviewed, and another cd is planned for release in 2015.
Apart from Goksel Yilmaz, the Ensemble comprises Dutch violinist Anne Bakker, double bass player Sandor Kem, percussionist Ulas Aksunger and singer Funda.
Go to our programmagids for more information