The people behind the Concertzender: Luc Nijs
Luc Nijs and his team work together to shed light on the evolution of 20the century opera. Going at it year by year, they started in 1900 and now, some 120 episodes underway, treat the year 1973. Taken together, the episodes provide a fascinating glimpse into the world of contemporary opera, and the way in which opera interacted with historical events and social changes.
Luc, how did you come into contact with Opera?
As a child I followed the music culture class at the music academy . Education in music, theatre , dance and art in Flanders runs in parallel with the lower and middle school, but is organised separately. It brought me into contact with every form of classical music. With my passion for language, theatre and music I rapidly chose opera as my favourite form of music.


Which is your favourite opera?
I love a lot of operas, but each one for different reasons. If I had to pick one it would be the 'Dialogues des Carmélites' by Francis Poulenc, from 1957. It's not such a well-known opera, although it was performed in2015 and 2017 . The plot is about a convent of Carmelite nuns in Compiègne. During the Terror of the French Revolution they refused to agree to the 'constitution civile du clergé', which involved the closure of many cloister communities. Because of their loyalty to their covenant with God they were guillotined. The historic story lends itself perfectly to amazing visualisations and I find the faithfulness of people to their principles very special. These days we've become so pragmatic and opportunistic as to have forgotten how to stand up for such things.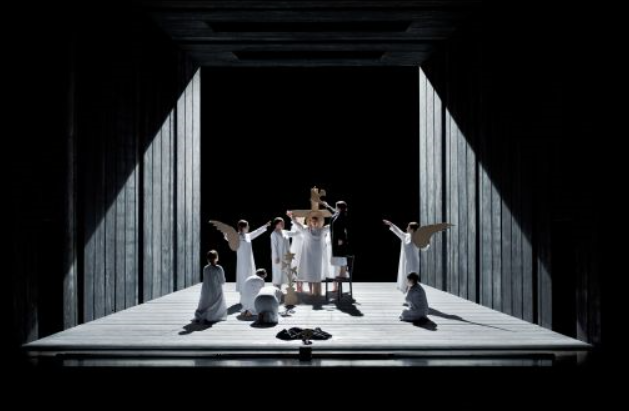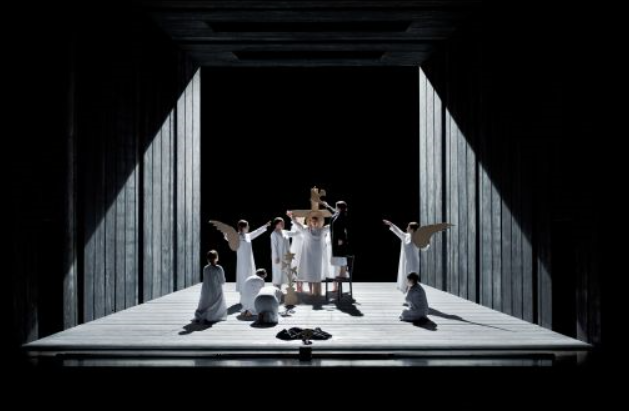 What makes 20th century opera so special for you ?
I can still remember as a 12 year old on a Sunday morning listening in bed on my transistor radio to a new work by Karlheinz Stockhausen.
I didn't get it. And sometimes I think ' I still don't'. You have to ask what the message is behind this potpourri of sounds. What is the composer trying to say ?
As an artform opera is continuously evolving, but the development has never been so enormous as in the 20th century. Leaving behind Romanticism, the Second Viennese School and Modernism and Avant-gardism have had an enormous impact, just like the World Wars, which caused people to look differently at themselves, society and art, including opera.
Modern opera requires you to make time for it. It's not pure pleasure, but it can be once you get through the different layers. The more abstract the work, the longer it takes to sink in, let's say.

The Opera Forward festival begins in March. How do you view the future of opera?
Opera is experiencing reduced interest and is seen as elitist. In the current 'Zeitgeist' that is tough. Every culture product of long standing has to question itself in order to remain socially relevant. Part of the challenge is to break through the existing eurocentrisme in the opera world. That's why we spend time on Turkish, Arabian, Korean, Persian, Latin and Asian operas.
The choice of performing practices has never been so wide, qualitatively as quantitatively. But people have to be able to connect emotionally with what's going on on the stage. We shouldn't in any case feel bound by existing traditions. An excellent example is the opera 'Shell Shock' by the Flemish composer Nicholas Lens, from 2014. It's an opera in commemoration of the barbarity of the First World War which in Belgium caused death, trauma and destruction. There was support for a first performance in the Munt in Brussels, because everyone felt in some way connected. The same applies to 'fin de partie', the first opera by György Kurtág.
The central question is 'what do we want opera to be?' It has to be shorter, less intellectual and more directly emotionally affect the public. That requires a new relationship between composing, theatre and writing texts.

Which episode was the most memorable?
There are so many in which It was so difficult to find good enough recordings. It's tougher than you would think. So many beautiful productions, even very successful ones at the beginning, haven't stood the test of times. And the re so many lovely works you hardly ever hear any more. Probably because of the commercial pressure on opera houses and record labels.

You started on the programme at the beginning of 2017. What's the idea behind Opera in the 20th century?
Current programmes broadcast – even if not live – complete operas , or are a sort of jukebox, with a random selection from the rich opera tradition. We wanted a more structured insight into the evolution of opera in the 20th century.
So we chose a timeline which starts in 1900 and at the end of 2020 will conclude with opera year 2020. It will then be 210 episodes.
In those 120 years both opera as art form and performance methods have changed enormously. We're capturing that dynamic very accurately in the series , paying attention to other influences and variations such as zarzuela's and opera traditions from other parts of the world. So in one series you can listen to Debussy or Ravel, to 'entartete Musik', or the 20th century Russian tradition. You can wrestle with Stockhausen, Berio or Nono, or allow yourself to be surprised by the newest of the new.


What are your plans for the programme? What happens when you reach 2020 ?
We're happily continuing until the end of December 2020. After that it's not entirely clear, although there are 2 excellent proposals which we are keeping to ourselves. Within the opera series team there's certainly no desire to slide into the kind of opera radio you can hear elsewhere. We make the programme with the three of us, an opera 'dreamteam' (and I mean that) which works so well together and consists of Willem van Schip (technical), Gerard Meulenberg (presentation) and myself. Whatever happens, we'll carry on with the same determination and ambition.