The West African group Orchestre Polyrythmo de Cotonou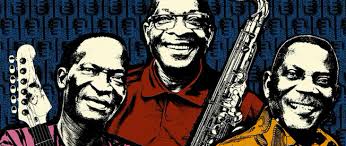 On Friday 29th June at 20.00 in Concertzender Live you can hear a recording by Orchestre Polyrythmo de Cotonou. This is one of the best groups from West-Africa. They performed during the Amsterdam Roots festival 2017 in the Oosterpark, Amsterdam. They come from Cotonou, a large city on the south coast of Benin. The group started in 1966 and became very popular during the 70's in West-Africa.
In 2011 after 20 years they finally produced a new album: Cotonou Club. 11 old and new pieces full of energy. In 2015 they produced their new album: Madjafalao . Since then they have become a much sought after festival band.