There's only one such orchestra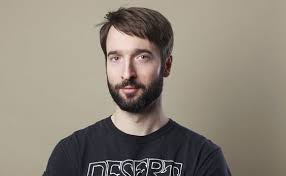 Friday 30th April. 18:00  Holland Jazz.
Which orchestra? The Metropole Orkest!
Imagine an orchestra that plays everything except classical music. Pop, Soul, Funk, Cabaret, Musical, Film music, World music, JAZZ. At top level too. There's only one: the Metropole Orkest.
Its line up combines  a full symphony string section with a big band, including a razor sharp rhythm section. The MO plays on such diverse podia as London's Royal Albert Hall, Paradiso and North Sea Jazz.
It doesn't seem like a difficult task to fill an incredibly varied hour – most difficult is to choose from an enormous treasure trove of recordings. Eight pieces take us through various jazzy styles and atmospheres. Jim McNeely, Vince Mendoza, Jules Buckley (photo), John Clayton and Rob Pronk are responsible for the arrangements and leading the orchestra. Party time!
Holland Jazz – a programme by Jan Verwey