Tineke Postma wins Boy Edgar prize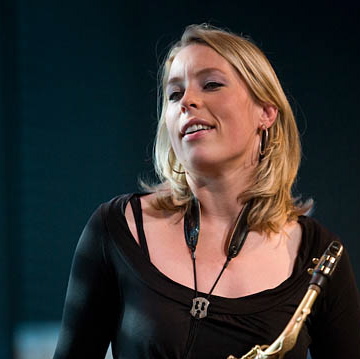 Tineke Postma will be presented with the Boy Edgar prize on 9 December 2015. Carolien Schönfeld made a programme about her. You can listen to the programme here.
The Buma Boy Edgar Prize, the most important prize in the Netherlands for jazz and improvised music, has been won this year by the saxophonist and composer Tineke Postma.
The winner recieves a trophy. which is a sculpture by Jan Wolkers, and a cash prize of 12.500 euro. The jury was particularly impressed by the combination of cosmopolitanism and Dutch sobriety that characterises Postma. "The way in which this modest musician from Friesland has been able to have a succesful musical career in the United States with her own group of US musicians and has established a reputation that allows her to work together with some of the greatest names in jazz music."
The jury also calls her an excellent band leader, "an open personality and a natural authority." Tineke Postma (36), who was born in Heerenveen, is overwhelmed by winning the prize.