Unfurled- Antony and Cleopatra…and Samuel Barber: Opera in the 20th Century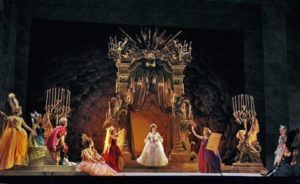 Today it's about Samuel Barber's third and last opera Antony and Cleopatra (op. 40). The story is based on the play of the same name by Shakespeare about the relationship between Anthony and Cleopatra against the historical background of the Roman-Persian Wars. Librettist Franco Zefferelli as always gave it a nice twist. That was necessary as Barber got the commission for the opening of the 'Metropolitan Opera House' in the Lincoln Center in New York in 1966.
The première did not go well and the reviews were scathing. With the help of his partner Gian Carlo Menotti, himself a gifted opera composer, he rewrote the piece both musically and textwise. Menotti had already written the libretto for Barber's first opera 'Vanessa' (1958). The revised opera finally got its second première in 1975 conducted by Menotti.
This opera doesn't get much attention, although qua music and text this work, performed against a well-known historical background and often with stunning decors, is a jewel from late 20th century opera history.
Recommended recording: there are only two recordings of the revised opera: one of the première in 1975 and a more recent recommended recording from 1983 released in 1988 by New World Records (NW 322/323/324) with the Spoleto Festival orchestra and the Westminster choir conducted by Christian Badea with soloists among others Esther Hinds and Jeffrey Wells.
Luc Nijs- Opera in the 20th Century.